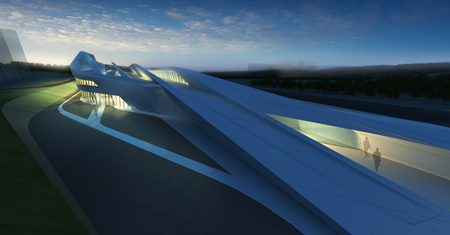 E.ON ENERGY RESEARCH CENTREAachen
Germany2006–TBC
PROGRAM: E.ON Energy Research DepartmentRWTH Aachen, 5 Faculties, Laboratories, Seminar Rooms
CLIENT: Building and Real Estate NRW, Aachen
SIZE: 5000 m²
CONCEPT: The new E.ON Energy Research Department building at RWTH University in Aachen emerges from between existing rail tracks, grass and tree slopes and a 4-lane arterial road. Our concept translates the direction and contours of the site as a primary form generator for the building and connects the two arms of the university campus into a larger spacial gesture.
There is a close correlation between the structure and form of the proposal to movement within the building and around it; the natural day light and air flow across the site. The structural and aerodynamic fins along the length of the roof-scape allow for the modulation both of daylight and wind stream air flow over the roof, maximising the provision of natural light and ventilation to all parts of the building interior.
A long integrated landscaped path guides people to the main entrance. From here a central corridor continues inside and becomes a circulation passage interweaving the program and levels. The internal passage divides the programme into two clear bands, one internal practical pocket with laboratories and secondly the enclosing academic band on 2 levels with 5 departments – including a library and meeting rooms facing the train tracks.
COMPUTER RENDERS: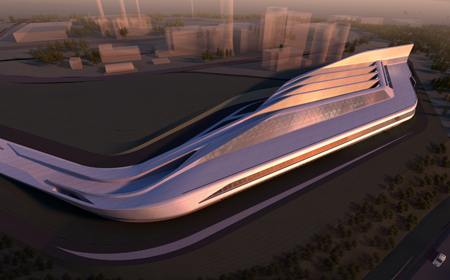 Render © Zaha Hadid Architects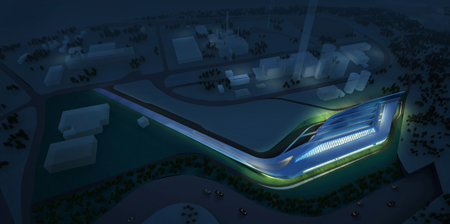 Render © Zaha Hadid Architects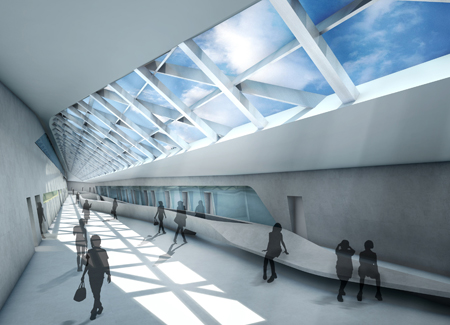 Render © Zaha Hadid Architects
ARCHITECT:
ZAHA HADID ARCHITECTS
DESIGN: Zaha Hadid with Patrik Schumacher
PROJECT ARCHITECT: Gernot Finselbach
ASSISTANT PROJECT ARCHITECT: Philipp Vogt
COMPETITION TEAM: Britta Knobel, Arnoldo Rabago, Margarita Yordanova Valova, Graham Modlen, Nils Fischer, Sara Klomps, Helmut Kinzler
CONSULTANTS:
STRUCTURAL: Buro Happold Consulting Engineers (London, UK/Berlin, GER)
M&E/SERVICES: Transsolar Energietechnik GmbH (Stuttgart, GER)