Saya Villa Project: Shadows and Cultural Fusion
Saya, a name derived from the local dialect of the project owner's hometown, translates to 'shadow.' The choice of this name stems from the captivating play of shadows cast upon the building's formal structure by sunlight during the day and external lighting at night.
The genesis of the project's primary form is rooted in a deep exploration of the local and cultural aspects of Targh Roud village, the client's birthplace, as well as his family's behavior.
This cultural exploration has given rise to a distinct behavioral pattern, characterized by simplicity, orderliness, and restraint in interactions outside the family, juxtaposed with a bold, dynamic, and harmonious demeanor within the family circle.
The Duality of the Saya Villa Design: Tradition Meets Innovation
The house design process mirrors this duality, where the external facade maintains a composed and predictable rapport with its surroundings, while the central core of the project evokes feelings of intimacy, vitality, and camaraderie through a play of solid and void spaces and soft flowing curves. The Saya villa project presents a commanding and serene exterior that seamlessly melds with its surroundings, while its dynamic and intimate interior, hewn from stone, symbolizes originality and dedication. It represents a fusion of tradition and innovation, with a foundation deeply immersed in color and a sculptural form that appears both grounded and ethereal. Its formal and imposing mass effortlessly caters to the functional needs of architecture.
The arrangement of the project's functional spaces and internal configurations draws inspiration from Iranian culture and behavior, as well as the requirements of family life. It respects the principles of centrality, privacy, and hierarchy, while skillfully harmonizing form, texture, and color. Furthermore, it maintains a reverent connection to nature within the context of modern living.
More Images of Saya Villa: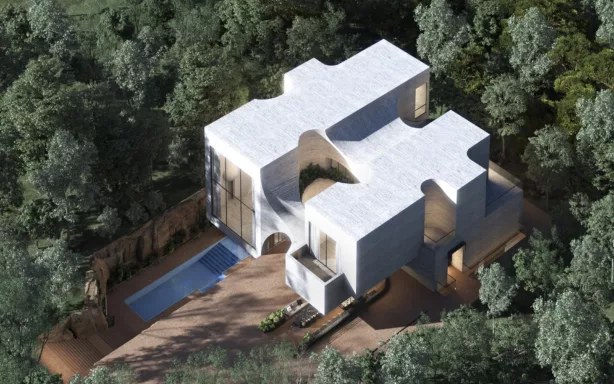 | | |
| --- | --- |
| Architects: | Team Group |
| Location | Lavasan, Tehran, Iran |
| Project title: | Saya Villa |