A sculptural Monument inspired by the Soviet era in Karosta, Latvia. Designed by Moksud Khan.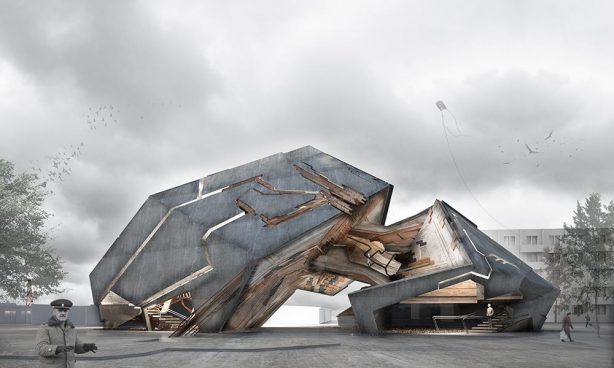 This is a 5th Year Diploma Project at the University of East London, which has been nominated for the RIBA Presidents Silver Medal.
Karosta is a small, ex-soviet occupied neighbourhood in western Latvia by the Baltic sea, home to abandoned buildings and structures that stand like monuments of war, Now it is a very popular place for tourists and artists.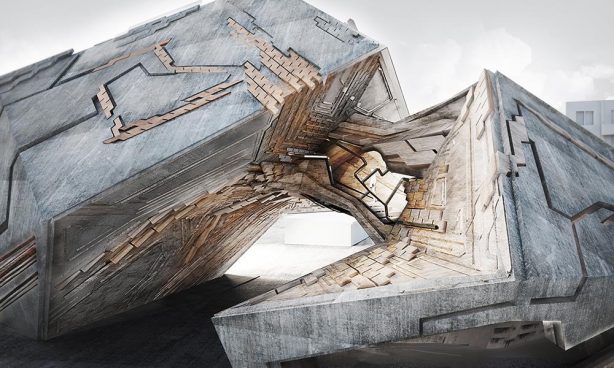 This architecture project introduces a new monument like building that contains vehicle workshops, as well as wood and metal workshops, and a canteen for the workers and local people. The building sits at the centre of Karosta, between a garage complex and three apartment blocks.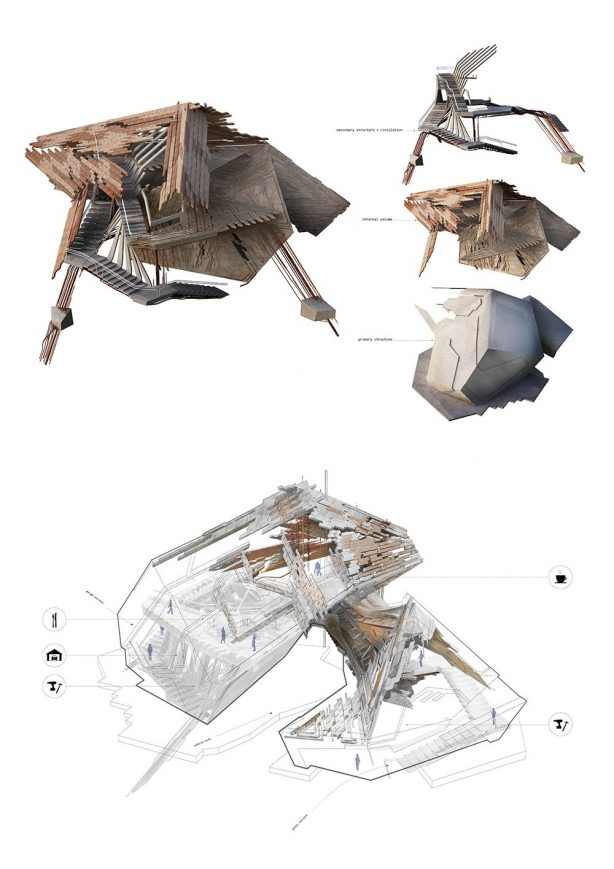 The mass is inspired by the sculptural nature of soviet era monuments and the fluid and edgy qualities of sculptures by artist David Quayola. The mass began as a simple monumental structure. Then a fluid subtraction is performed out of a solid mass. Sculpting a fluid subtraction produces a void between the mass that does not resemble the tool it has been subtracted with and the mass that it has been subtracted from.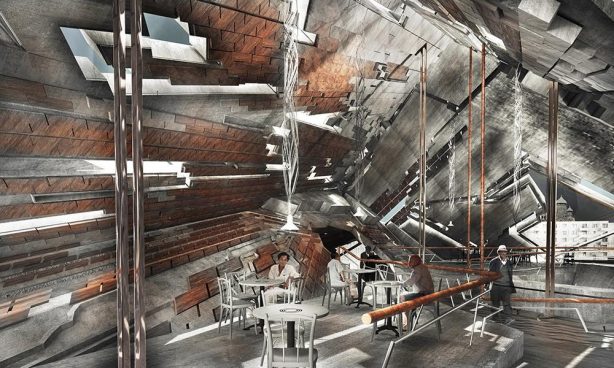 The void becomes an entity in itself. In this project the void becomes a timber bridge that forms the circulation within the building. The timber develops its own design logic where it starts to take over the concrete elements and become internal surfaces defining space within the building.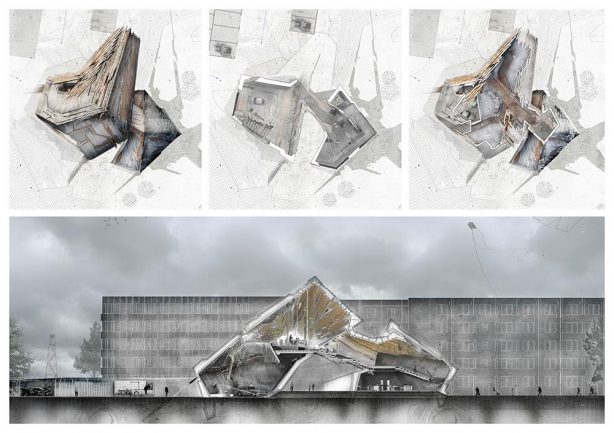 More details from the Architect Moksud Khan: 
Three different objects form the building. Each object has its own material system and function.
1) An external concrete shell that is inspired by bunkers found on the coast of Karosta.
2) A timber material system that has a more fluid character, which is like exploding shrapnel that penetrates the concrete shells and defines internal volumes within the building.
3) A steel staircase that acts as the secondary structure. The staircase is supported by exposed steel members that sometimes become ornamental parts of the building facade.
These three multi-object objects are designed by taking clues from buildings, materials and construction techniques found in Karosta.
The overall mass of the building consists of two low polygon volumes connected by a high resolution timber bridge. The timber grows through the building and forms a large and lightweight cantilever which is supported by the steel staircase. Steel tension cables emerge from the staircase, through the rear of the building to provide counter balance. Interaction between these three objects produces the spaces and volumes within the building.
Architect: Moksud Khan