CityLife Milano, Milan, Italy 2004–2012
PROGRAM: Park, three office towers and retail buildings, 4 different sites for residential development, educational & social facilities and a museum.
CLIENT: CityLife Consortium – Milan.
SIZE: 190 meter office tower of 43 storeys, totalling 65000 m² connected to a 3-storey retail galleria of 25000 m². Housing complex of 6 buildings ranging from 3 to14 stores totaling nearly 45000 m² and 300 units.
CONCEPT: The high-rise as a building typology has traditionally been treated as a static, fixed strategy; the tower is reduced to a technocratic, engineering 'solution' governed by specific economic factors. Architects, in this role, have been left with the spire, exterior shell or, perhaps more significantly, the lobby interior. For the Fiera Milano, Zaha Hadid Architects have investigated the urban location of the tower as a portal, or gate into the Fiera along Viale Scarampo and Via Bartolomeo. Derivations of the passagio from the site into this gate gives shape to a certain torsion or vortex, and it is this movement, this dynamism that we are investigating.
Moving from the ground datum of the Piazza Porta Fiera, the retail base of the tower slowly rises and twists, in provision of a pedestrian ramp, to a bifurcation along its length servicing a galleria/promenade. This line of torsion continues to the tower that releases its horizontal energy into a vertical, spiraling vector from the base to its crown that finally aligns with the snaking forms of the housing across the river. Congruent with this movement, the structure of the tower is conceived as a stack of equivalent, economically efficient floor slabs that incrementally twist about a vertical axis. This incremental twisting is algorithmically controlled so that each floor does not have the same angle, but has a fractional, relational angle to the floors above and below, further developing the dynamism of the tower. All lateral forces are absorbed into a conventional central core, while a radial display of columns support vertical load. The external skin of the tower is a system of sun-deflecting louvers flanked by a double layer of glazing, Furthermore, the surface of the glazing has a series of ventilating registers that draw outside air through the cavity of the exterior system, thus providing a highly energy-efficient environment for the offices behind. Finally, the views and panoramas provided along the height of this office tower will also move dynamically, sweeping from the Piazza Firenze to the Piazza Giovanni Amendola, while the exterior silhouette clearly demarcates an entry gate into a new, vital Fiera Milano. The residential area has been designed with meandering lines across the park, one of buildings that transform the park into a series of intimate semi-public gardens for the use of the residents.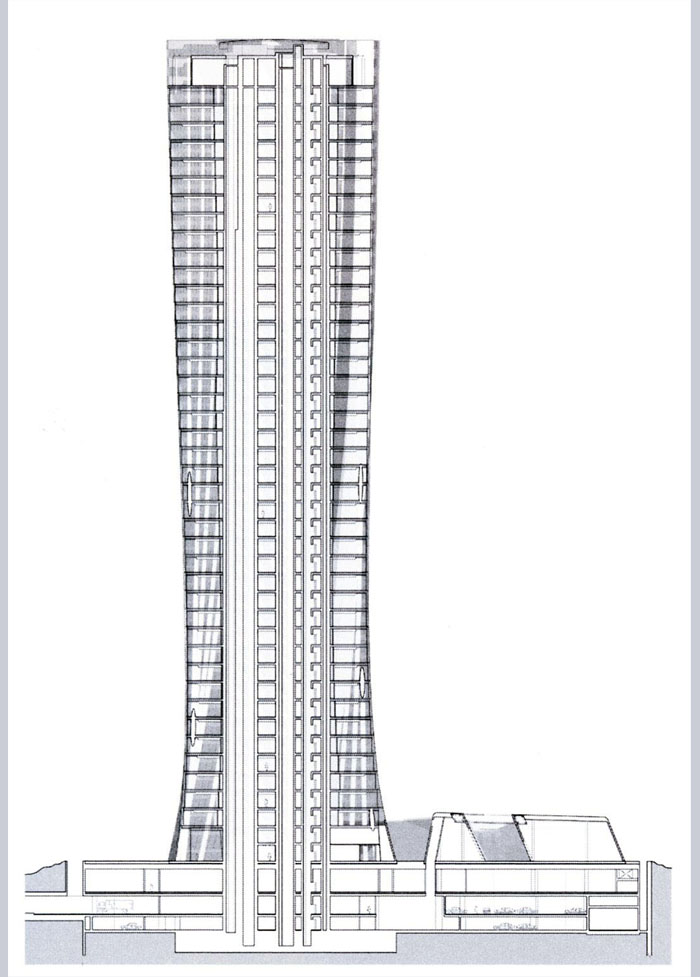 MODEL PHOTOGRAPH:
Summary:
ARCHITECT: ZAHA HADID ARCHITECT
SDESIGN: Zaha Hadid with Patrik Schumacher
PROJECT DIRECTOR: Gianluca Racana
TOWER PROJECT ARCHITECT: Paolo Zilli
TOWER DESIGN TEAM: Andrea Balducci Castè, Mario Mattia, Giuseppe Morando, Annarita Papeschi, Matteo Pierotti, Peter McCarthy, Line Rahbek, Arianna Russo, Carlos, Sebastian Martinez
RESIDENTIAL PROJECT ARCHITECT: Maurizio Meossi
RESIDENTIAL DESIGN TEAM: Vincenzo Barilari, Cristina Capanna,Giacomo Sanna, Arianna Francioni, Fabio Ceci, Giuseppe Vultaggio, Serena Pietrantonj, Mario Mattia, Massimiliano Piccinini, Samuele Sordi,Alessandra Belia
COMPETITION TEAM: Simon Kim, Yael Brosilovski, Adriano De Gioannis, Graham Modlen, Karim Muallem, Daniel Li, Yang Jingwen, Tiago Correia, Ana Cajiao, Daniel Baerlecken, Judith Reitz
CONSULTANTS:
STRUCTURAL: Adams Kara Taylor, Redesco, Cap Engineering
MSC/M&E: Max Fordham Partnership, Manens, MilanoProgetti
LIFT: Roger Preston
FIRE: Silvestre Mistretta
TRANSPORT: Systematica, Sudio Corda, Alpina