Innovative Villa Designed by the American architect Daniel Libeskind
Like a crystal growing from rock, a dramatic structure emerges from the ground.  The Villa, Daniel Libeskind's first signature series home, creates a new dialogue between contemporary living and a completely new experience of space. Built from premium materials, this German-made, sculptural living space meets the highest standards in design, craftsmanship and sustainability. It is unique at every turn, offering maximum insulation and durability, cutting-edge technologies and compliance with some of the toughest energy-saving standards across the world.  Studio Daniel Libeskind worked with proportion GmbH on this project.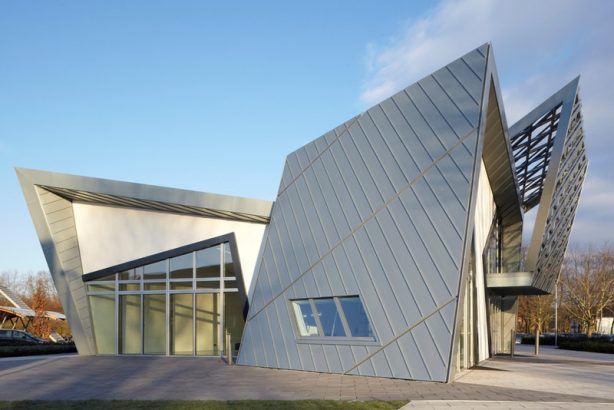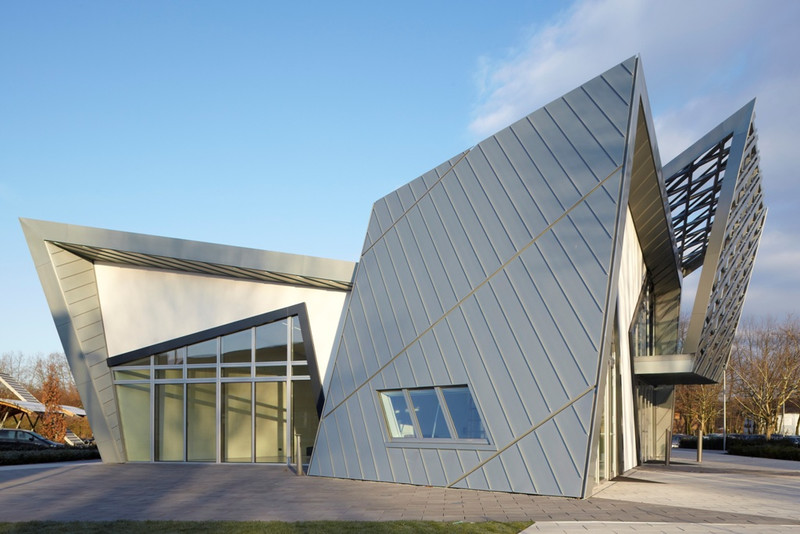 Libeskind's Villa awakens the senses: light floods through glass expanses, clean lines invite calm, elegant halls and staircases offer seamless transitions. Symbolically and physically, the Villa's connection with nature is uninterrupted, offering ample natural light and open spaces.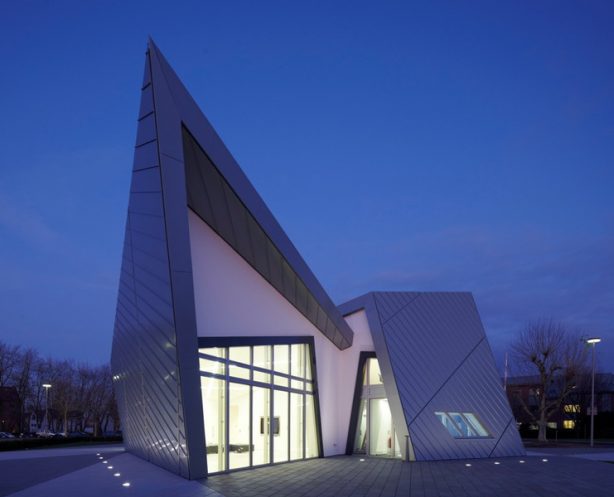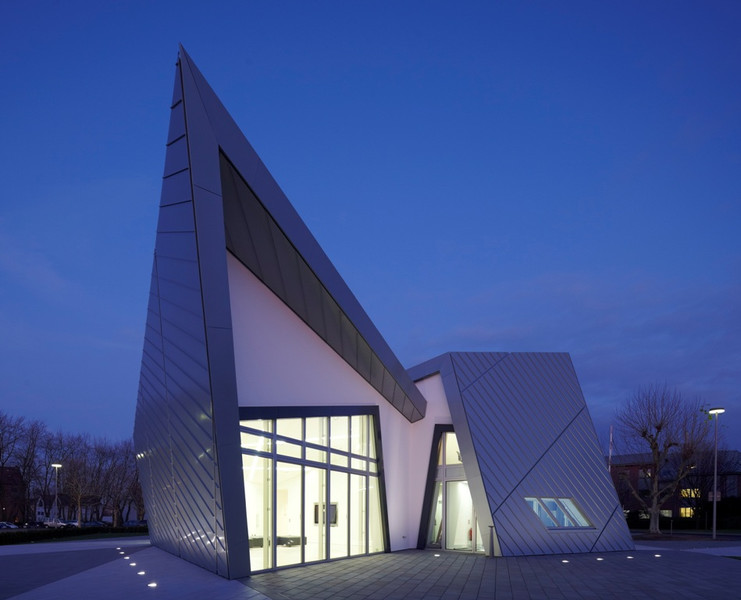 A trio of interlocking architectural bands envelop the Villa in striking angles, creating a dramatic, asymmetrical interior of spiraling, two-story peaks and smooth transitions to secluded terraces. The impressive entrance hall leads to an elaborate Grand Room which highlights the geometric space. Design details reveal style and functionality: A balcony adjacent to the master bedroom is adorned with elaborate metalwork; light wells direct daylight into a sauna; and recessed wardrobes streamline dressing spaces.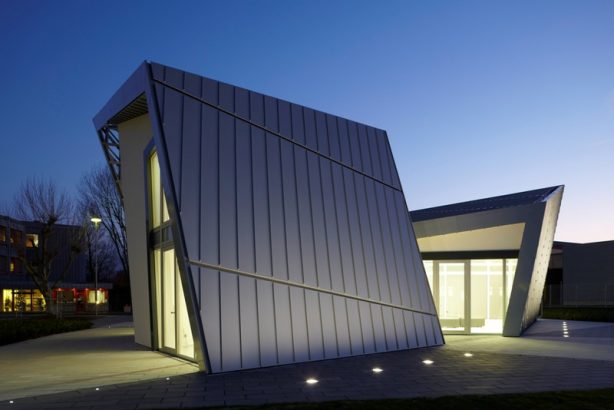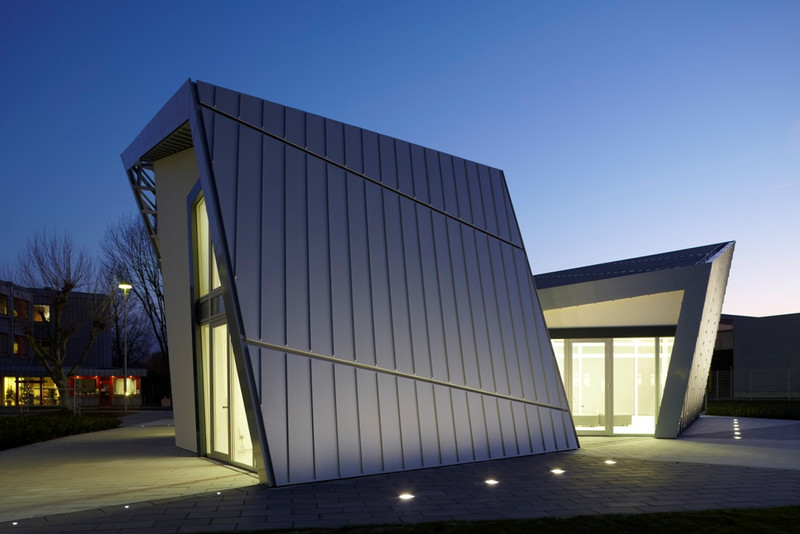 High-tech façade:
Mimicking the Jewish Museum in Berlin and other architectural masterpieces by Daniel Libeskind, the Villa's exterior is enveloped by an elegant standing-seam zinc façade, which enables the use of 21st Century technologies such as a solar thermal system and a rain water harvesting system. The zinc cladding is available in two hues that resemble naturally aged zinc: the popular pre-weathered blue-gray, and the elegant graphite-gray, both made by leading German zinc manufacturer Rheinzink.
Large floor-to-ceiling windows create dazzling displays of sunlight and transparency inside the house. The aluminum façade, adorned with mullions and concealed fittings, offers maximum thermal insulation, noise reduction and weather resistance.  Homeowners may choose from double or triple low-E glazing, as well as different surface colors and finishes.
Casual style interior:
The dramatic look of the Villa's exterior is matched by a luxurious interior. Among the exquisite amenities is the stunning kitchen ensemble, situated in the Grand Room, with a custom made island designed by Daniel Libeskind – an attractive focal point for cooking, dining and entertaining.
Elegant smoked parquet flooring, slim stainless steel staircases, and soft, bright manufactured stones in the bathrooms distinguish the Casual Style, which evokes a sense of warmth and comfort. Plush lounges, intimate lighting and warm colors, best suited to the Casual Style, create a striking contrast with the exterior architecture and more stylistic elements of the Villa.
Interior images:
Onsite Renewables:
The Villa employs onsite renewable energy sources for heating, electricity and water. Its standard configuration includes a solar thermal system which is invisibly integrated into the zinc façade, as well as a geothermal system with a high-efficiency heat pump.
In addition, electric power may be generated from photovoltaic thin film, while rain water can be harvested from the rooftop for use in the garden's irrigation system.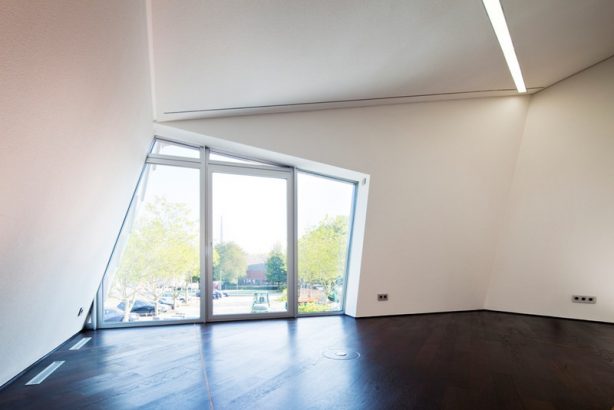 Energy Saving Standards
As a result of its high thermal insulation capabilities and renewable energy sources, the Villa is classified as a low-energy structure. Indeed, it complies with some of the world's toughest energy-saving standards, such as Germany's KfW40 code, which indicates a thermal energy consumption of less than 40 kWh/m²a.
A new era of luxury
The Villa can be shipped to almost any location in the world within months, and will be assembled on location by a team of experts within weeks.