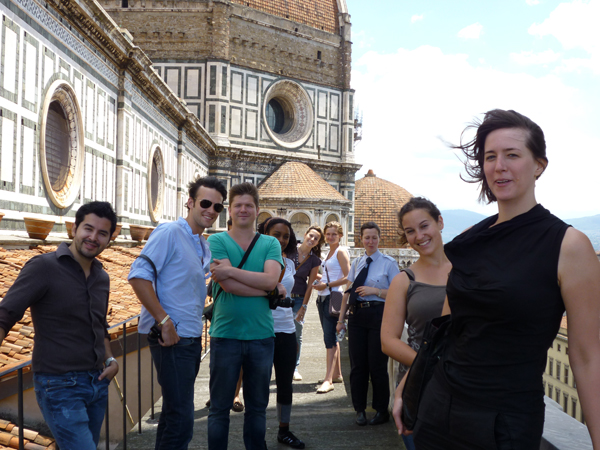 Revealing Florence Architecture
The Florence Institute of Design International offers course of Florence Architecture for summer 2011.
Set against a scenic and historic backdrop, the Florence Institute of Design International will again offer a unique four-week architectural learning experience for aspiring and professional architects. The course, which will run from June 1 to 30, will usher students though different architectural periods to discover the key to the evolution of Italian architecture.
The course will be held mostly in the form of walking tours combined with on-site discussions, photometric analysis, as well as hand sketching. However, classes will be also held in Florence Institute's elegant Baroque style palazzo, located in the historical center of the city. During which, students will also be treated to feature lectures on architecture and urban planning. Basically, the short program is designed to expose architects and designers to the significant architectural works of Renaissance Florence together with its relationship to the city.
In the past, the school has welcomed students from around the world, giving them a richer perspective on Italian architecture. Last year, the course attracted students from five different continents, all with the common interest of learning about Italian history. This is not surprising though as the course is specially made for students with strong interest in art, interior design, architecture and Italian ingenuity.
To give more background, the Architecture course, to be lead for the 3rd consecutive year by Prof. Karin Templin, will feature a mixture of traditional and modern analytical approaches as well as a general overview of the Italian architectural history. Students of this course will be exploring the different Florentine architectural masterpieces like the Palazzo Rucellai, Palazzo Strozzi and Santa Maria Novella, to name a few. But among the course highlights are privileged tours of Santa Maria del Fiore which is considered in part to be one of the masterpieces of Italian architect Filippo Brunelleschi. The tours will also cover the Mannerist style Laurentian Library, and the Medici Chapel, which are all creations of the late great Michelangelo, in addition to the famous Palazzo Medici built between 1445 and 1460 (cited as the first Renaissance Palazzo).
Indeed, there is no better place to learn about architecture than in Italy. Overwhelmed by rolling hills and picturesque landscapes, Italy – most especially Florence – is undeniably one of the most beautiful places on earth. As such, it not only serves as an inspiration to artists but also a nurturing habitat for innovators and innovations. Being in Florence, the school envisions their students to be surrounded by the best of what art and architecture has to offer.
Now apart from the Architecture course, Florence Institute of Design International will also be providing summer classes on Furniture Design and Graphic Design.
To get more information about the Florence Institute of Design International, visit http://www.florence-institute.com/
Contact:
Florence Institute of Design International
Florence, Italy
Tel: +39. 055.23.02.481
Email: [email protected]