Are you looking for a Lighting Wallpaper Designs for your space? Tomas Rousek from London XTEND DESIGN LTD Creates 7 New Lighting Wallpaper Designs inspired by the parametric patterns, for ELON Technologies.
London, UK – ELON Technologies, the revolutionary Lighting Wallpaper designers, manufacturers, and creators behind the first unveil at the Designblok in Czech, this week officially debuted their line of seven new lighting wallpaper designs, available for purchase. Designed and refined by Tomas Rousek of the London XTEND DESIGN LTD, the lighting wallpaper possibilities and accents for homes or offices worldwide are staggering.
"Enticing lighting shouldn't just be reserved for bars, laptops, mobile devices, and advertising posters," said Pavel Benes, Founder, and Owner of ELON Technologies. "Our technological developments will enable even the most boring of walls to come alive with lit-up personality. Through electroluminescent technology, an ambient light will emit from any pattern style to meet individual consumer preferences."
Lighting Wallpaper is a 0,5 mm thin, laminated foil in the shape of a 50 by 50 cm square. It's lightweight, the tiny frame makes it incredibly versatile and easy to install. Each individual tile has stickers for quick wall application, and the tiles are double-sided with copper stickers for expanded artistic interpretation.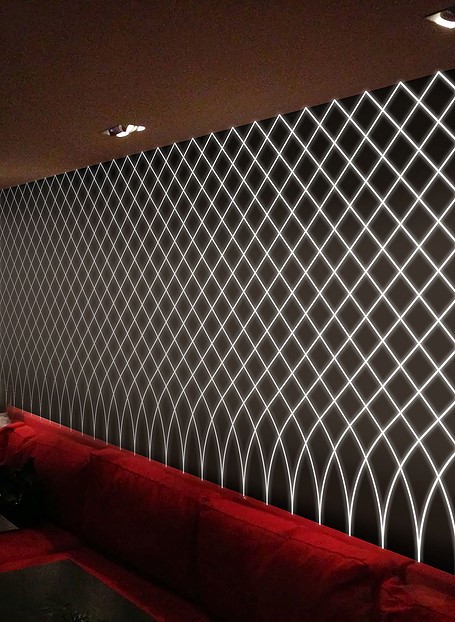 The entire set is then powered by a special power source, which converts 220V from the socket into 110V. The resulting energy consumer is 80 W/m2 of the lighting area.
"Our energy conversion method results in low power drains and an evenly cool light feeling," said Benes. "The chain connection system makes it easy to install and durable for years. We are excited to announce the new line of our six exquisite and eye-catching patterns, and are encouraging everyone to consider giving their walls some life with ELON Technologies' Lighting Wallpaper."
For people who want clean, modern minimalist lines, the Lighting Wallpapers will eliminate the need for intrusive lamps and chandeliers with their poor light dispersion.
Following the immense interest in the initial product at the 2014 Designblok exhibition, ELON Technologies sought out Tomas Rousek for ensured and unique wallpaper patterns.
For more information, visit: http://www.lighting-wallpaper.eu/.
Thanks for reading! Leave me a comment below, and let me know if you like any of these Lighting Wallpaper Designs?