SIRUSERI, India — A massive futuristic office complex is rising from a patch of spare, arid land here near the southern Indian city of Chennai. Six butterfly-shaped buildings dock like spacecraft to two long metal-latticed terminals.
About 12,000 people already work at the campus, being built by India's largest technology company, Tata Consultancy Services. It eventually will have space for 24,000 of Tata's nearly 180,000 employees.
Meanwhile Infosys, one of Tata's biggest competitors, has added a corporate campus for 15,000 employees with buildings that resemble the Parthenon, the Coliseum and the Louvre's glass pyramid. Infosys plans to build an additional 10 million square feet of custom office space by mid-2012, at various sites, adding 25,000 workers to its current 122,000.
It is all part of a construction spree by India's outsourcing companies, which are growing at a breakneck pace after the lull caused by the global financial crisis in 2008 and 2009.
But the building boom is about more than making room for more workers.
The outsourcing giants, which include Wipro and others, hope that architectural sizzle can help them compete for the nation's top software programmers, while also burnishing their reputations with overseas clients and prospective customers.
In this nation where world-class high-tech companies co-exist with urban slums and rural poverty, employers like Tata, Infosys and Wipro have set out to create avant-garde, environmentally smart corporate sanctuaries.
And even if some architects and critics complain about the wisdom and taste of the efforts, the executives behind the building boom say their ambitious projects put a modern face on Indian business.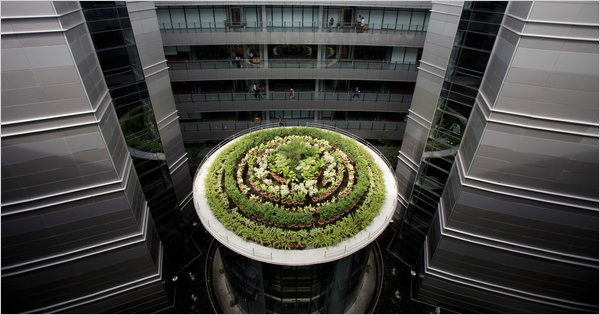 T. V. Mohandas Pai, a director at Infosys, which has 15 campuses around India, said his company's eclectic mix of designs from all over the world reflected this nation's inclusive sensibility. "One singular thing is monotonous," he said. "In India, we are a colorful people."
Like China a decade earlier, India appears to be at that phase of economic development where buildings are meant to help advertise the nation's arrival on the world stage. But unlike China, where the government and state-owned corporations took the lead, private companies in India have headed the charge — not the government, which struggles to execute even basic construction projects.
And within India's business world, technology companies have been more adventurous than others, perhaps because of their outsize financial success and their need to hire tens of thousands of workers to write software for foreign clients. State and federal governments are aiding the effort by offering these companies generous tax incentives and choice pieces of real estate to build big campuses.
Competition for employees is intense, because while India produces about 500,000 engineers every year, most colleges provide such poor education that the industry says that just a quarter of graduates are employable. But among those most qualified — typically graduates of elite places like the Indian Institutes of Technology and Birla Institute of Technology and Science — as many as 18 percent leave for other jobs every year. The outsourcing companies see lavish, environmentally friendly campuses as a way to help attract and retain the best and brightest workers.
With their manicured lawns, power generators and lakes, the campuses are a noticeable improvement on most engineering colleges, which suffer from India's standard infrastructure deficiencies — blackouts, water shortages and poor maintenance.
"I prefer a big campus," said Aditya Mathur, a software engineer, 23, who joined Wipro a year ago, and now works at a four-year-old office in Gurgaon, south of New Delhi, as a software tester. "The facilities are better in a big campus."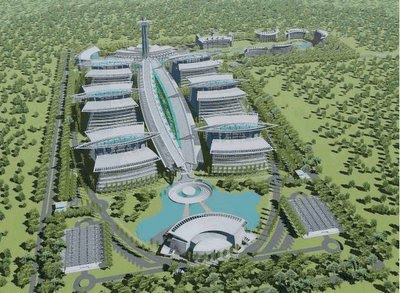 Tata Consultancy Services — or T.C.S., as the company is known — is spending $200 million on its Siruseri campus and has hired the Uruguayan-born Canadian architect Carlos A. Ott, who designed the opera house on the Place de la Bastille in Paris. The company is also building big campuses in Ahemdabad, Pune, Calcutta and Hyderabad.
But some critics say that too many of the industry's new complexes are intended to make a big splash without much thought of how they will function and fit into the local surroundings.
"It is a haphazard reaching for something that will quickly make a statement about the place being world class," said Himanshu Burte, an architecture critic who writes frequently for Indian newspapers.
But Rahul Mehrotra, a prominent architect who has designed an office building for Hewlett-Packard in Bangalore, the city at the heart of India's technology industry, argued that rather than being outré, too many Indian tech campuses had a hackneyed feel, evoking the sprawling suburban campuses of Silicon Valley or American companies like Google and Apple.
"The architecture in these cases symbolizes the fact that these are places of outsourcing, not cutting-edge research," said Mr. Mehrotra, who lives in Mumbai and Boston.
Mr. Pai of Infosys said he was unconcerned about such criticism. He said the people who mattered to the company — employees and customers — raved about its buildings, particularly those that resembled landmarks like the Coliseum at its new campus in the city of Mysore. "They like the fact that it's so diverse," he said.
Infosys probably set the standard for ambitious corporate campuses in India more than a decade ago. Many other companies grew helter-skelter wherever they could find space. But Infosys started building large complexes, beginning with its first campus on the southern edge of Bangalore, its home city, in 1995, just a few years after India started to open its economy to the rest of the world.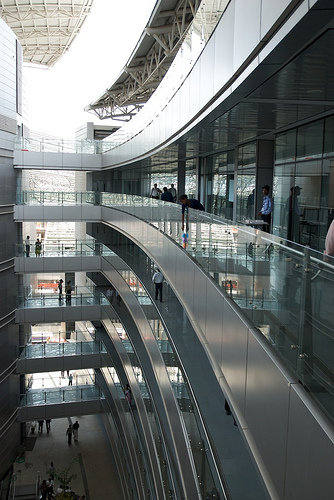 That first campus, which, after many expansions, can now accommodate 24,000 people, was considered cutting-edge for creating an ordered oasis of lawns and lakes in the midst of the urban chaos that envelops most commercial areas in India. The complex also established the company's quirky style — with a glass pyramid for an auditorium and a building that resembles a washing machine — and helped set a benchmark for big campuses in the technology industry.
Mr. Pai, who determined the overall layout of the campuses with the company's chairman, N. R. Narayana Murthy, said Infosys was determined to make every new campus "better than our last campus."
Their rules include the tenet that no two buildings should look alike. Another audacious goal is that every campus should become a "carbon sink" in the next five years. In other words, trees, lakes and other natural features should absorb more carbon than is generated by the campus.
Some other firms, like Wipro, tend to be more understated, opting for standard-looking office buildings. But even these companies have trademark causes. Wipro prides itself on minimizing the use of power and, especially, water. It recycles water and creates lakes to harvest the rain. At one of its campuses in Bangalore, a training center appears to float on one of these reservoirs.
T.C.S., based in Mumbai, has long had significant operations in and around Chennai, the city formerly known as Madras, which is on the Bay of Bengal. But N. Chandrasekaran, chief executive of T.C.S., said the company previously had too many buildings arbitrarily sprinkled around that region.
The new Siruseri campus, 18 miles south of Chennai, is meant to help consolidate some of those outposts and give employees a sense of place and pride of ownership. "We had multiple buildings and we felt that we should have a campus where employees will feel empowerment, will feel good about working," he said "and at the same time we have a place to host clients."
For at least some employees, the plan seems to be succeeding.
Deenathajalan Sugumar, who works in production support, recently moved to the new T.C.S. campus in Siruseri from a smaller building in Chennai. He gushed about the campus, even though he now commutes by a company bus for more than an hour every day, more than double his previous travel time.
"It's my home," Mr. Sugumar, 24, said. "It's my company."