EHang Partners with Giancarlo Zema Design Group to Build Eco-Sustainable Vertiport for Passenger Drone
The Chinese giant EHang (NASDAQ: EH) world leader in autonomous air vehicles ("AAV"), launches the first Eco Air Tourist Experience, entrusting the famous Italian architecture firm, Giancarlo Zema Design Group (GZDG) with the design of innovative eco-sustainable vertiports that produce energy and recharge the drones wirelessly.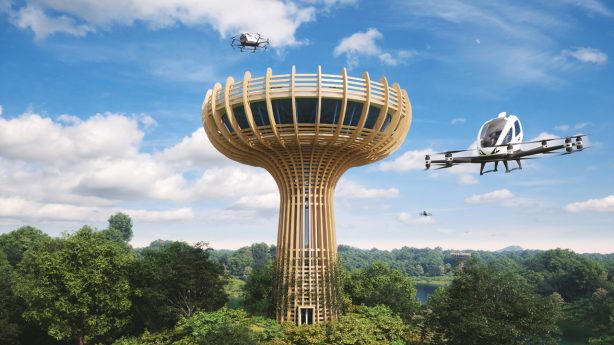 This is how Baobab Tower was born, the first vertiports that integrate into nature: large technological trees on which splendid "birds" rest and feed to admire the large green parks and natural reserves from above.
A real revolution in the Air Mobility sector. Baobab Vertiports will play a significant role in the Urban Air Mobility (UAM) market and the new era of flight. When integrated into the existing transportation infrastructure, vertiports can serve as aerial hubs for tourists.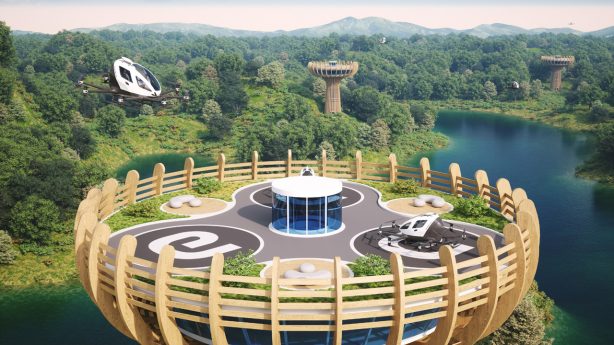 Inspired by the native African tree Baobab, It stands out in the sky with a 30m high tower, with a steel and laminated wood structure, with 360° windows, refined interiors with a large waiting room, café, 200 sqm panoramic restaurant and connecting lift.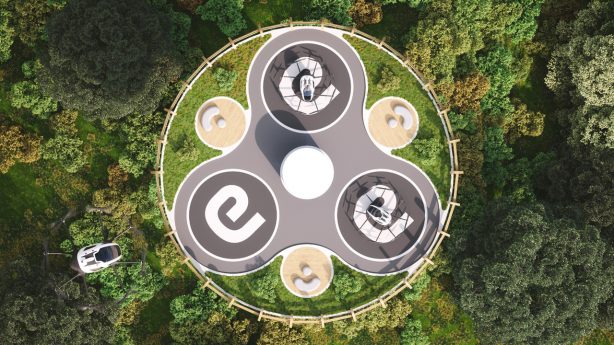 On the roof terrace there are green areas with seats and three landing areas for electric drones that are recharged wirelessly from the landing pad floor, the latter consisting of special latest generation non-slip photovoltaic panels, produced by the English company Solapave, able to generate over 300 kW and with integrated LED lights for night lighting and signage.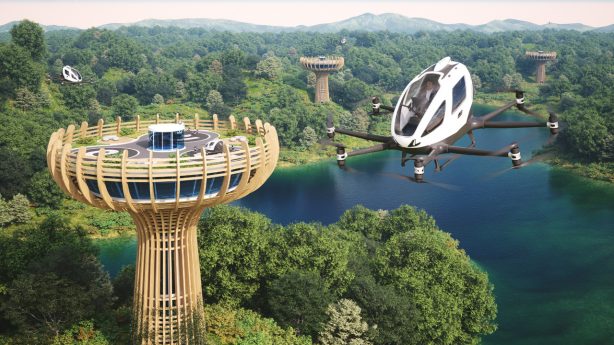 With the Baobab project, EHang conquers the emerging world eco-tourism sector, with developments underway in China in the Forest Lake of Zhaoqing City, the Maldives, the United Arab Emirates and Italy.
About EHang
EHang (Nasdaq: EH) is the world's leading autonomous aerial vehicle (AAV) technology platform company. Our mission is to make safe, autonomous, and eco-friendly air mobility accessible to everyone. EHang provides customers in various industries with AAV products and commercial solutions: air mobility (including passenger transportation and logistics), smart city management, and aerial media solutions. As the forerunner of cutting-edge AAV technologies and commercial solutions in the global Urban Air Mobility (UAM) industry, EHang continues to explore the boundaries of the sky to make flying technologies benefit our life in smart cities.
About Giancarlo Zema Design Group
The Giancarlo Zema Design Group is an innovative architecture practice in Rome, specialized in smart eco-sustainable projects, semi submerged architectural structures, floating habitats, yacht and interior design. Founded in 2001 by the architect Giancarlo Zema as a dynamic and flexible organization, it covers the entire design process, from concept to the executive details.
Project Info:
Date: 2021
Location: Guangzhou (China)
Project: Giancarlo Zema Design Group
Client: EHang
Consultants: Sarti Engineering + Solapave
Status: concept