Vanke Sales Center commissioning the Upright & Pure Architectural Design firm to renovate their facade center at Zhengzhou, Henan, China.
The aim of renovation for the facade of Vanke Sales Center is embracing the green buildings & housing industrialization by dedicating leading in energy conservation and emission reduction to achieve a Hi-Tech results in the green building philosophy.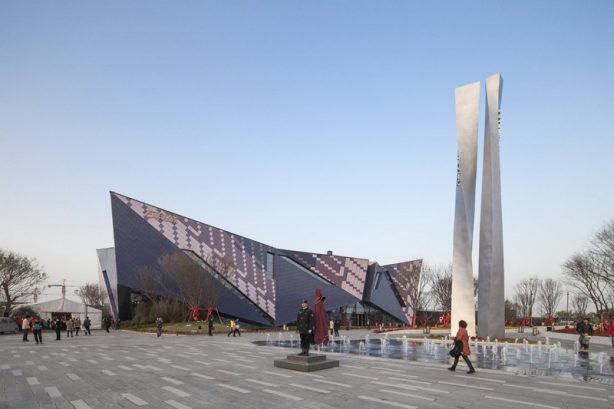 As the architects added, the function of the Vanke Sales Center is a sales center, the design's philosophy is focusing on conveying the spirit of enterprise of Vanke Co.,Ltd.  which has been a pilot of the building industry in China by dedicating leading in energy conservation, emission reduction, promoting green buildings and housing industrialization, so the design efforts is to symbolize Vanke Hi-Tech development philosophy and their approaches.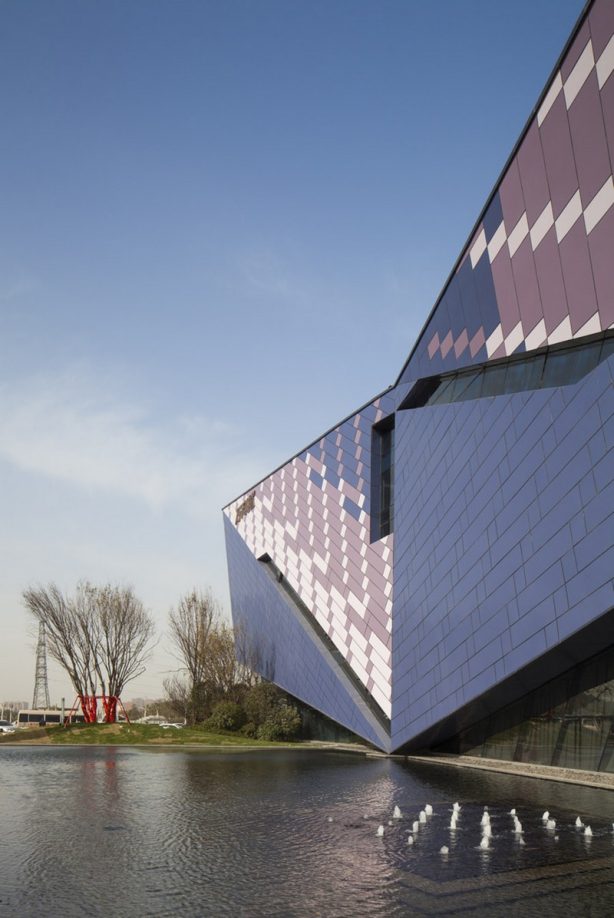 To create "mutation" effect, we also employed aluminum panels as main material of building epidermis and used three kinds of colors combinations to enhance the feeling of "mutation" in one triangle surface.
The arrangements of the aluminum panels in each face are interrelated and mutually varied. Each elevation has its specialized color gradient. They vary from cold to warm color in gradient, creating a "bloom" effect.
All the design effort is to extend the exhibition area of Vanke Sales Center outward to the outdoor space by its attractive facade.
The geometry of the Vanke Sales Center is highly harmonized with its surroundings, which also reflect Vanke Sales Center spirit of respecting social and environment, as well as the local culture. Moreover, being a target of architects and designers, we make efforts on establishing environment friendly spaces by detail-designed landscaping and outdoor furniture.
Project info:
Architects: Shenzhen Upright, Pure Architectural Design
Location: Zhengzhou, Henan, China
Area: 4600.0 sqm
Year: 2013
Photographs: Courtesy of Shenzhen Upright & Pure Architectural Design
Contractor Of The Building Construction: Meijing zhizhou Development Ltd
Structure: Concrete Frame & Steel Structure
Interior Design Firm: Matrix Design
Landscape Architects: Locus Associates