Tiered Residential Tower in Paris made up of 200 unique apartments designed by Hamonic + Masson & Associés + Comte Vollenweider.
Members of the Council of Paris revised the urban regulations for the Masséna- Bruneseau sector in Paris' southeasterly 13th arrondissement at the city council meeting of Tuesday 16th November 2011. This amendment will allow the construction of residential towers measuring 50 metres tall, and of office blocks measuring up to 180 metres tall.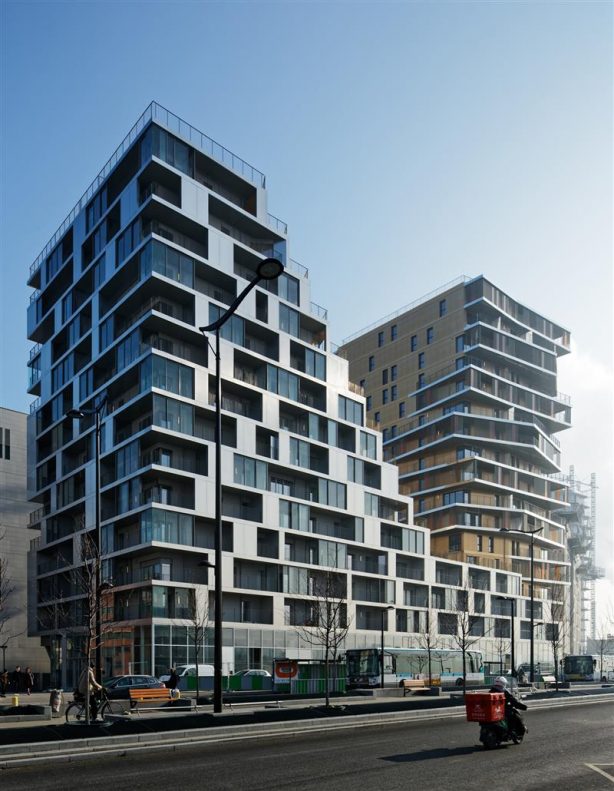 Functioning as one single building and offering social housing and home ownership opportunities, the project links the strict rigidity of the Avenue de France, the railway landscape, the entrance to the Ivry suburb and finally the transition from a linear city to a vertical one.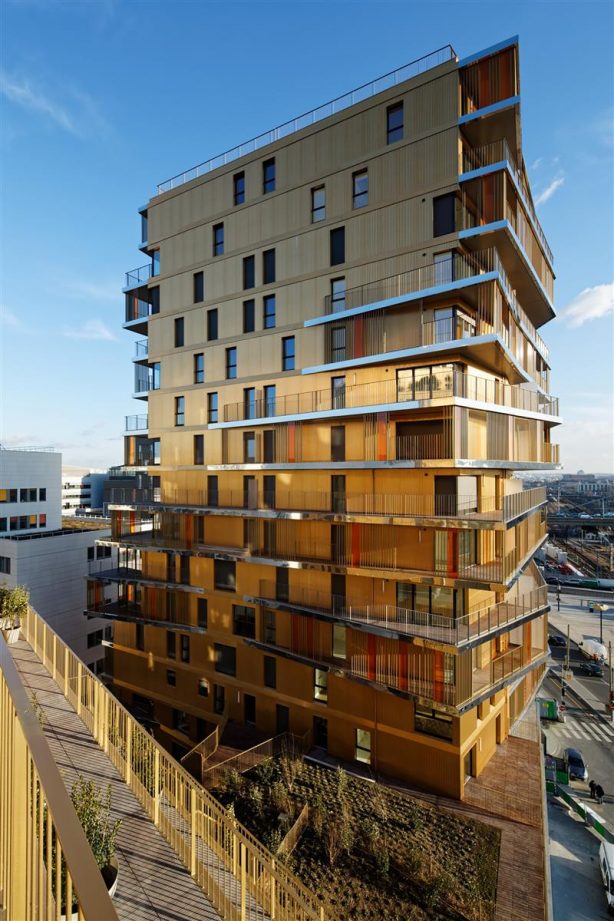 The terraces spiral upwards, catching the light at every angle, adding to the allure of this tiered tower, whilst leaving an impression of progressive transformation. The performance resides in the fact that there is no feeling of repetition throughout this structure of 200 homes. The apartments are stacked on top of one another, but each has its own strong, unique identity.
Many people aspire to live in suburban style, individual housing. There are many reasons for this, but in particular being able to create a true identity for one's own home.
Secondly there's appeal of eating outside, having direct contact with the outdoors from the comfort of your own house, all whilst owning ones own land. These desires must be integrated in to the scale of the apartments in a collective building.
We have responded to this search for individual identity, ownership and differentiation by creating multiple exterior spaces and apartments with various, differing typologies within the collective.
Living up high gives a sense of privilege: the view, the light and the sunshine… Some say they "have their head in the clouds." Being in the city whilst also being able to shut oneself off and see the land below and the horizon: living here is like getting away from it all.
The HOME project will be complete at the beginning of 2015 and will be the first housing operation of 50 metres to be built in Paris since the 1970s. It is symbolic of a willingness to reconsider the possibility and the potential of height in Paris.
Project Info:
Architects: Hamonic + Masson & Associés, Comte Vollenweider
Engineering: Sibat
Site: Chemin Masséna, 75018 Paris, France
Delivery: February 2015.
Construction time: 18 months.
Area: 14,000 m2