Pastelito Installation
The installation is named "Pastelito", after the typical Argentinean pastry, due to the similarity between the pastryand the folded piece of paper composing it.
The project is the result of a contest to be a part of the "Muestra #4" (Event #4) at the gallery MONOAMBIENTE (www.monoambiente.com.ar), cured by Martín Huberman (owner of the gallery and chief architect at the Architecture Studio, both functioning in the same room), which we won.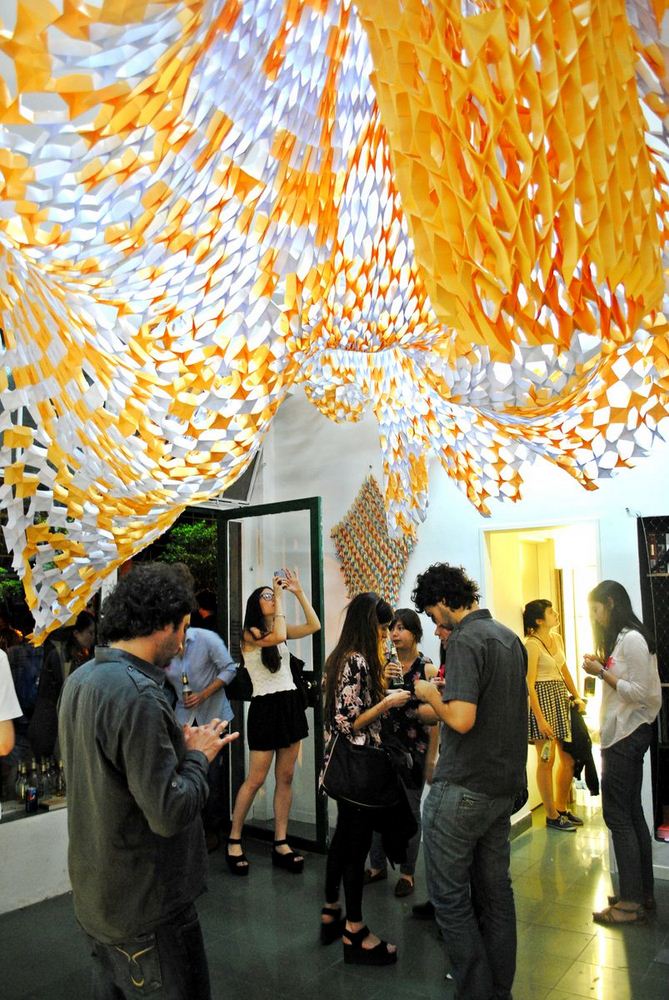 Part of our work consists of the prototyping of modular systems, and in this logic "Pastelito" shows the exploration of the origami technique applied to the module of a commercial size of paper; exploiting the possibilities of both the paper and the module as building materials.
The repetition and interaction between modules resulted in an extensive mesh made out of around 8,000 pieces of hand-folded paper. This mesh presents a changing behavior which we took advantage of to interact with the space inside the gallery.
More Images, click on for larger image:
 About "off the record":
"off the record" is a group of Architecture students from the University of Buenos Aires, Argentina. Our work is based on the transformation of common materials into experimental modules or modular systems which we use to create structures that transform the space in different ways.
Project credits:
[separator type="thin"]
photographers: Martin Poos and Martin Huberman
links: www.monoambiente.com.ar