Morphosis, the Los Angeles architectural firm headed by 2005 Pritzker prize-winner Thom Mayne, These images of their competition-winning tower for the La Défense business district in Paris. The design called the "Phare Tower" (beacon), was declared the winner of the architectural contest on Friday 24 November. At 300 meters high, the 68-story tower will be slightly shorter than the 320m Eiffel Tower when it is completed in 2012.
Phare Tower: A Synthesis of Context, Form, and Technology
Drawing on the power of parametric scripting, the design of the Phare Tower gathers disparate programmatic, physical, and infrastructural elements from the requirements of the building and its surrounding context, and synthesizes these into a form that seamlessly integrates the building into the idiosyncrasies of its site while expressing multiple flows of movement. In the spirit of the Paris Exposition competition proposals, the tower embodies state-of-the-art technological advances to become a cultural landmark.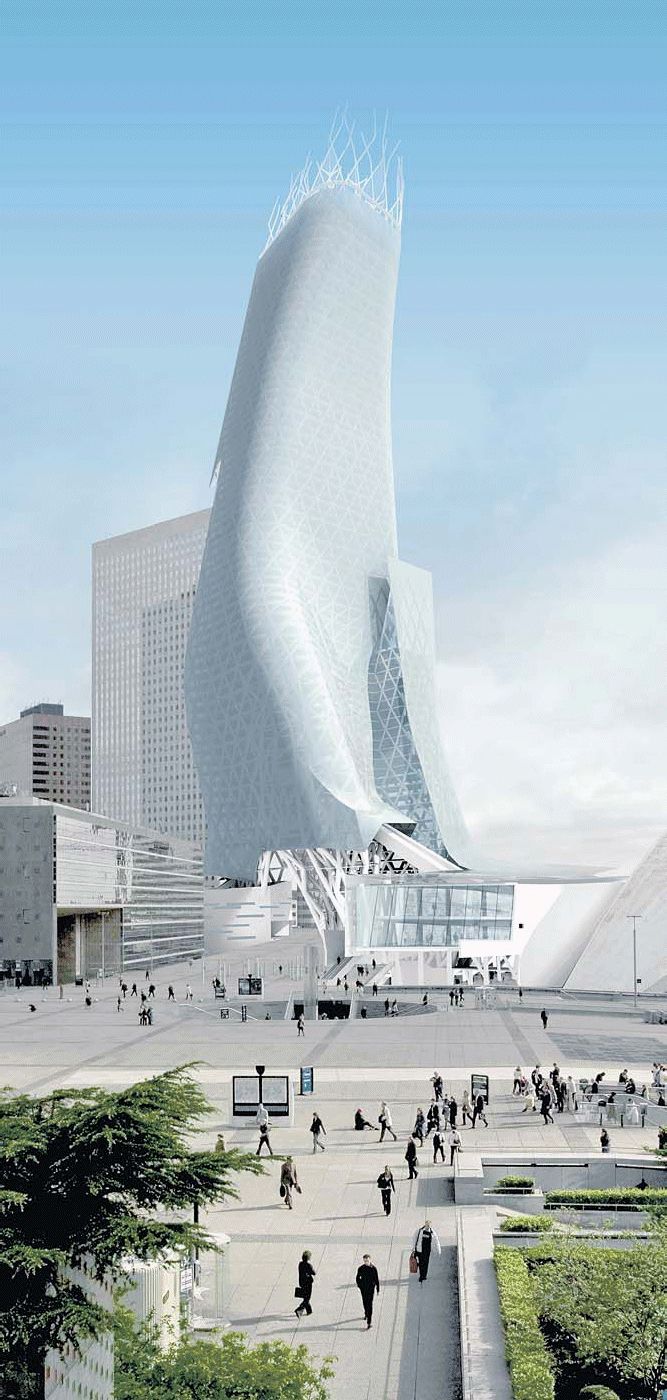 Morphosis describes the building as a "hybridized tower" rather than a pure office block as it contains public spaces including a 60m-high atrium, gardens, cafes, shops plus an observation deck, and a sky restaurant. The building's lower levels provide pedestrian links between an underground transport hub and the surrounding area.
A Sustainable Design for Phare Tower with Wind Farm and Curving Facade
The building contains "sustainable" technologies including a wind farm on the top and a curving facade designed to minimize solar overheating.
"There's a fluidity, a sensuousness, a softness to the form as it reaches to the sky," Mayne says. "Moving around the tower, it appears to shift continually, distinct from different vantage points-not a single image, but a dynamic structure that responds to its site, environment, and performance requirements."
It will be the first architecturally significant new tall building in Paris since the 110m-high La Grande Arche, designed by Danish architect Johann Otto von Spreckelsen and completed in 1990.
More images of Phare Tower Design: