The Agung Sedayu Center in Jakarta, Indonesia is an office building designed by Agung Mahaputra, Andika Priya Utama, Arief Aditya Putra, Dely Hamzah, Nidia Safiana, and Rahadi Utomo.
A Big Mangrove Tree Skyscraper
This Green & Sustainable skyscraper will be in the mangrove forest of Jakarta, Indonesia. The Agung Sedayu Center rises out of the natural habitat as an iconic volume that takes in the breathtaking views of the forest. It Looks like a big mangrove tree towers in the forest.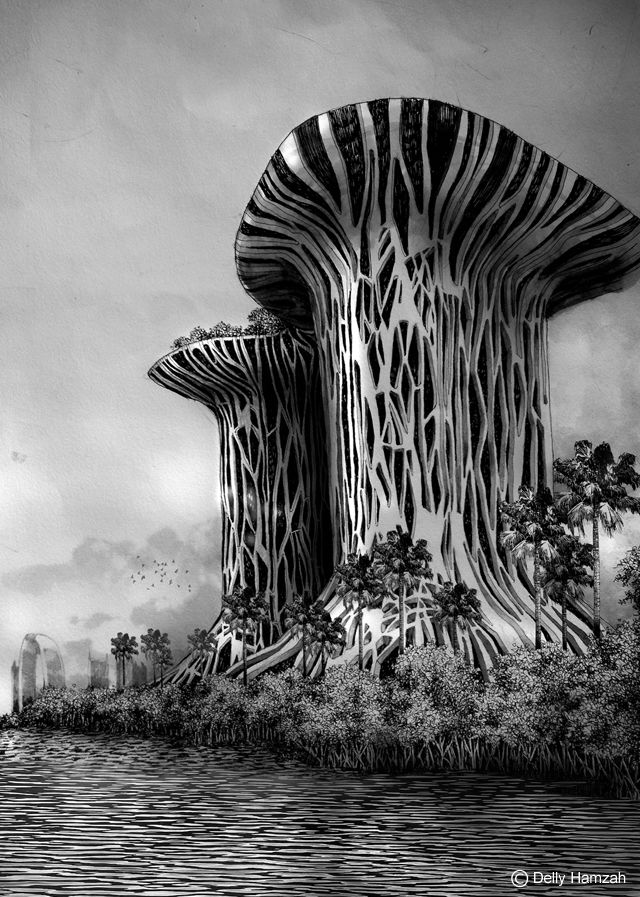 The Mangroves consist of two asymmetrical towers that rotate to get the beautiful vista while capturing sunlight from morning to midday. A corridor without an artificial air conditioner encircles each floor. The corridors serve as a barrier between the sun's heat and the workspaces.  They absorb the heat gain while allowing light in thereby reducing the dependence on electricity for artificial light and air in the buildings.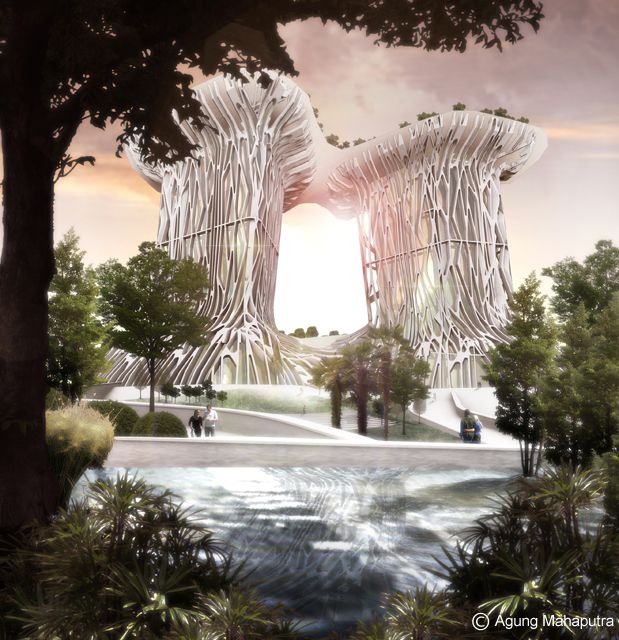 The Mangrove offers flexible spaces on each floor. A skeletal structure is used as the main structural system for the façade, which provides shade for interior spaces.  The density of this shading system varies and is adjustable with the annual movement of the sun.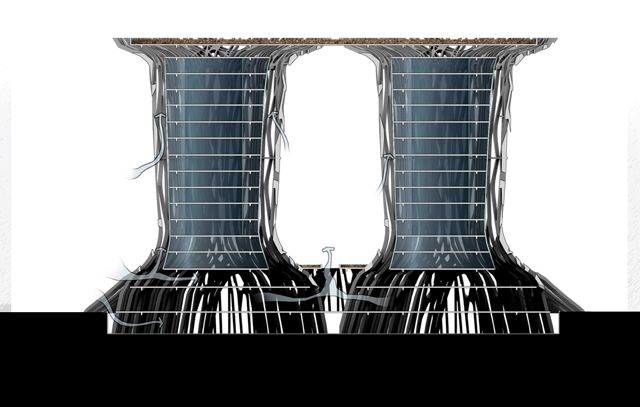 The Mangrove Tree Towers are designed to become part of the mangrove forest of Jakarta in that it can be used by the public. The towers are open to the public as an extension of the forest: the Jakarta sea, the mangroves, the promenade, the tower ground floor, the podium floor, and the roof floor are designed to be accessible by those who want to enjoy the north sea of Jakarta. A dynamic pedestrian bridge escorts visitors from the promenade up to the podium level. The buildings are inaccessible by car.  In order to preserve the health of the forest, the project promotes accessibility to only pedestrians and cyclists.
Architects: Agung Mahaputra, Andika Priya Utama, Arief Aditya Putra, Dely Hamzah,Nidia Safiana, Rahadi Utomo
Location: Jakarta, Indonesia
Competition Year: 2011
Client: Agung Sedayu Group
Site Area: 9.429 sqm
Built-Up Area: 28.200 sqm
Status: Idea