House on the Flight of Birds was designed by Portuguese Bernardo Rodrigues Architects
Nestled on the northern edge of S. Michael Island in the Azores, you'll find a home uniquely tailored to its environment. The local microclimate, characterized by persistent winds and frequent showers, inspired an innovative architectural design: a protective wall to shield against the wind, complemented by a variety of patios and sheltered courtyards to ward off rainfall.
These outdoor spaces serve a dual purpose, not only providing refuge from the elements but also inviting the lush surrounding greenery into living areas through expansive glass walls. These retractable barriers allow residents to engage with the outdoors without leaving the comfort of their home.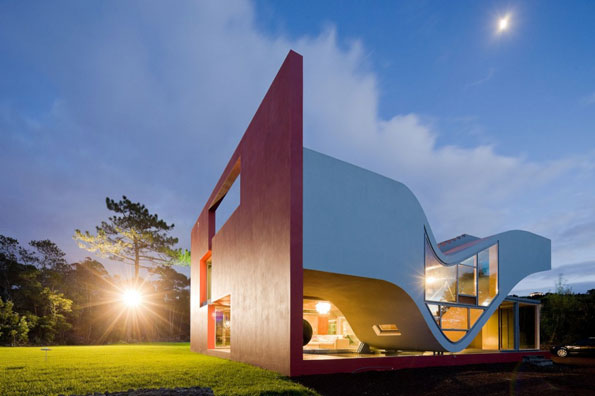 Ascending to the upper level, one finds private quarters offering a higher degree of enclosure and safety. The blueprint of the Flight of Birds residence echoes the time-honored central plan designs of Palladio and Scamozzi, with a grand double-height living room at the core, flanked by two lateral wings, one of which houses the kitchen.
In a nod to traditional residential architecture, high chimneys punctuate the skyline. One wing shelters an indoor patio, while the other facilitates circulation to the upper floor and roof terrace. Both wings culminate in radiant entrances, inviting in light from the south.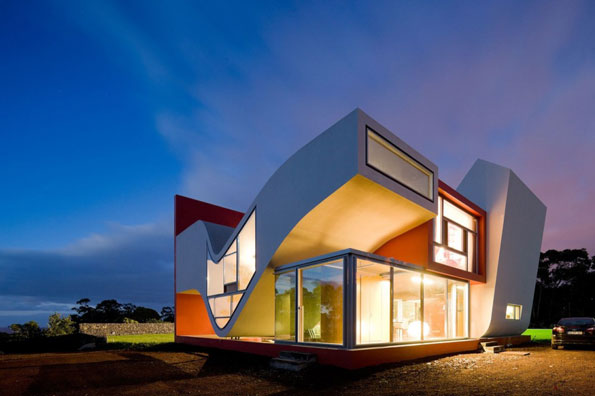 The Flight of Birds residence, however, is the roof terrace. This elevated vantage point gifts its visitors with panoramic views of the island's north shore, a sight to behold. This well-considered design, deeply rooted in response to its environment, thus creates a dwelling that is as functional as it is beautiful.
According to the architects, " the microclimate of this farmland offers frequent wind and showers so the first design strategy was to block those winds with a wall, offer diverse patios and covered courtyards on the ground floor protected from rain and open all living space to the natural green around by using glass walls receded from the exterior.