Zaha Hadid Architects' Dongdaemun Design Plaza in Central Seoul, Korea
The 85,000 square meter Dongdaemun Design Plaza will establish a learning resource for designers and members of the public with a design museum, library, and educational facilities, while the 30,000 square meter Park will create a green oasis within the dense urban surroundings of Dongdaemun, Seoul. The Dongdaemun Design Plaza and Park form revolves around the ancient city wall, which forms the central element of the composition, creating a continuous landscape that physically links the park and plaza together. The fluid language of the design, by inference and analogy, acts as a catalyst by promoting fluid thinking and interaction across all the design disciplines, whilst also encouraging the greatest degree of interaction between the activities of the Plaza and the public.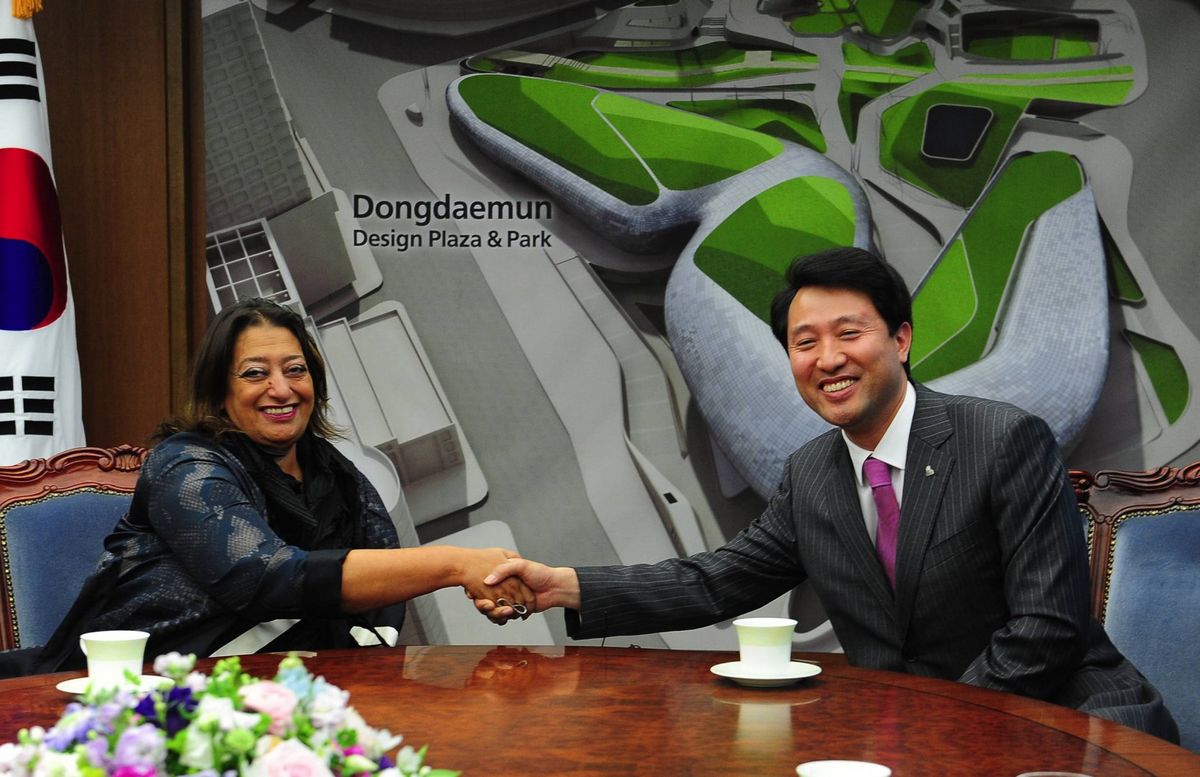 The new Dongdaemun Park creates a place for leisure, relaxation, and refuge. The design integrates the Park and Plaza seamlessly as one landscape element, blurring the boundary between architecture and nature. Informed by the Korean painting traditions depicting grand visions of the ever-changing aspects of nature, the Park reinterprets elements of traditional Korean garden design: reflecting pools, lotus ponds, pebble beds, and bamboo groves, with no single feature dominating the perspective. The external landscape of the Park transforms Seoul into a greener city by folding into the internal shopping/dining areas below. Numerous voids, undulations, and depressions give park visitors glimpses into the innovative world of design and allow Dongdaemun Design Plaza and Park to be an essential link between the city's contemporary culture, historic artifacts, and emerging nature.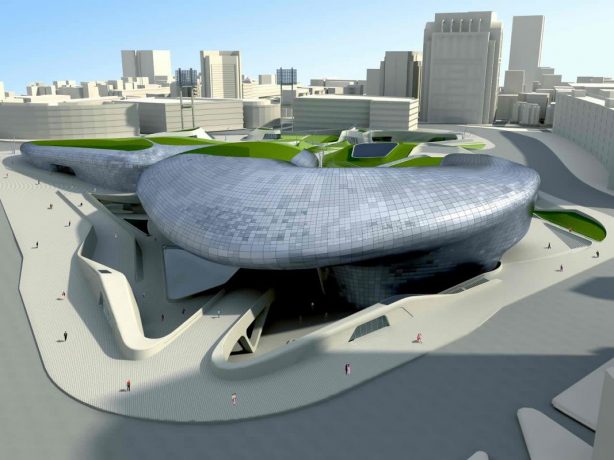 Project Info:
DONGDAEMUN DESIGN PARK & PLAZA
Seoul, South Korea 2007–2011
PROGRAM:
Park and Design Complex for Central Seoul
SIZE:
Building: 85000 m²
Site: 65000 m²
Park: 30000 m²
ARCHITECT:
ZAHA HADID ARCHITECTS
DESIGN: Zaha Hadid with Patrik Schumacher
PROJECT DIRECTOR: Eddie Can
PROJECT ARCHITECT: Craig Kiner
PROJECT TEAM: Kaloyan Erevinov, Martin Self, Hooman Talebi, Carlos S. Martinez, Camiel Weijenberg, Florian Goscheff, Maaike Hawinkels, Aditya Chandra, Andy Chang, Arianna Russo, Ayat Fadaifard, Josias Hamid, Shuojiong Zhang, Natalie Koerner, Jae Yoon Lee, Federico Rossi.
COMPETITION TEAM: Kaloyan Erevinov, Paloma Gormley, Hee Seung Lee, Kelly Lee, Andres Madrid, Deniz Manisali, Kevin McClellan, Claus Voigtmann, Maurits Fennis.
CONSULTANTS:
LOCAL ARCHITECT: Samoo Architects & Engineers
STRUCTURAL/M&E/LIGHTING/ACOUSTIC: ARUP
LANDSCAPE: Gross Max
FACADE: Group 5F
GEOMETRY: Evolute
QS: Davis Langdon & Everest