Perched on the edge of a man-made 32-acre lake and nestled deep within the 497-acre Crystal Lake Wild Forest lies a true architectural wonder that will leave you speechless. Designed by the incomparable Marc Thorpe Design, the Crystal Lake Pavilion is an otherworldly structure that blends seamlessly with the natural environment that surrounds it.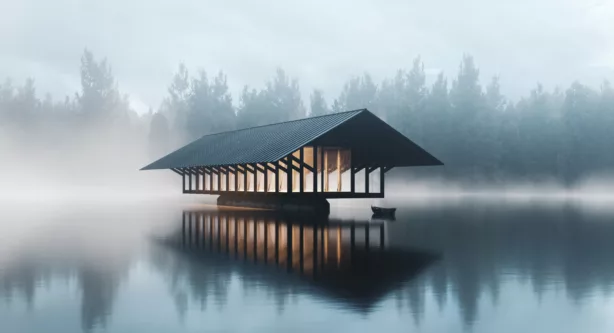 As you approach the pavilion, you can feel the anticipation rising in your chest. The moist woodlands and rolling hills that envelop the pavilion create a serene and peaceful atmosphere that is almost tangible. But what really takes your breath away is the building itself – an all-glass structure that seems to disappear into the surrounding landscape.
Accessible only by boat, the pavilion is a work of art that embraces the natural environment around it. The structure's transparency and all-glass skin create an ethereal and almost magical atmosphere, making it the perfect location for meditation, yoga classes, or group therapy.
The pavilion's construction is a marvel of modern engineering, with an all-timber frame structure that utilizes light steel connections and a standing seam steel roof. The building's traditional king post method of timber construction is a feat of human ingenuity, with heavy timbers joined together with lap joints and pegged mortise and tenon joints.
But perhaps the most striking feature of the pavilion is its center post, which cantilevers off a single solid concrete pier set into the lake bed. This gives the illusion that the building is floating weightlessly over the lake's surface, reflecting its triangulated roof in a dizzying optical illusion.
The Crystal Lake Pavilion is more than just a building – it's a work of art that will leave you spellbound. So why not take a trip to the West Catskills and experience it for yourself? The unique ecology of the Crystal Lake Wild Forest is home to hundreds of species of indigenous plants, flowers, and trees, as well as wildlife and insects unique to the region. And now, with the addition of the Crystal Lake Pavilion, this natural wonderland has become even more awe-inspiring.