Zaha Hadid: Bahrain Museum Of Contemporary Art
Iraqi architect Zaha Hadid created a unique organic form for Bahrain museum of contemporary art, to promote the artistic and cultural reality of this small Kingdom in the middle east,  and an excellent opportunity for artists to show their work.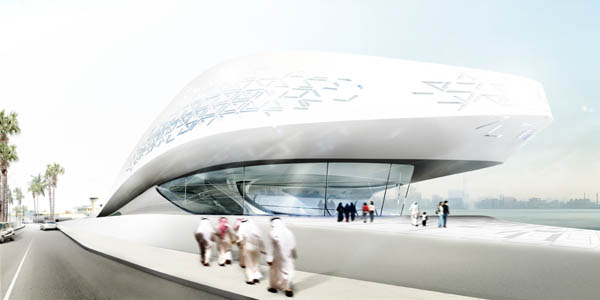 Zaha Hadid's Bahrain Museum project will consist of  Exhibition space for permanent and temporary collections, performance space auditorium, education facilities, studios (artist in residence), offices, cafe, restaurant, museum's retail.
Concept Design of Bahrain Museum of Contemporary Art:
The enigmatic volume emerges from a narrow coastal land stripe at the Gulf of Bahrain. Describing a gentle curve while gradually rising from the ground a volume is formed that bends slightly and reaches over the water towards Manama. The building appears mystically floating above a coastal landscape. Public fields flow around the sculptural mass of the museum, underlining its presence with curvy-linear lines echoing the contours of the volume. The overall dynamism and fluidity of the elongated form support the emphasis on movement through and around the museum.
Site : (Al-Muharraq, Kingdom of Bahrain)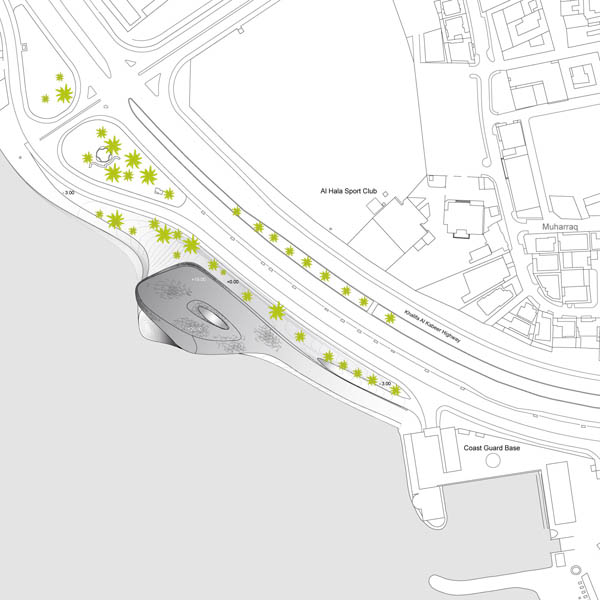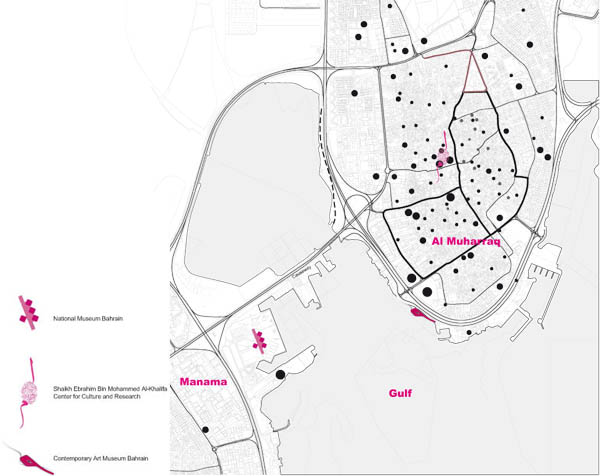 Plans & Sections :

More Images:  Click on image to Enlarge
Elevations




Model Images:
Project Info:
Project name: Bahrain Museum Of Contemporary Art, 2007-2012
Loction: Al-Muharraq, Kingdom Of Bahrain
Client: H. H. Shaikha Mai Mohammed Al Khalifa Culture & National Heritage Sector (Bahrain)
Area: 33414 M² Site, 10000 M² Internal Floor Area
Architect: Zaha Hadid Architects
Design: Zaha Hadid With Patrik Schumacher
Project Architect: Elke Scheier
Site Supervision Team: Anja Simons, Paolo Matteuzzi, Mario Mattia
Project Team: Gerhild Orthacker, Jimena Araiza, Susanne Lettau, Hee Seung Lee, Alexander Janowsky
Structural: Bollinger + Grohmann
Lighting: Arup Lighting (London) Andrew Sedgwick, Jeff Shaw
Visualisation: Moka-Studio