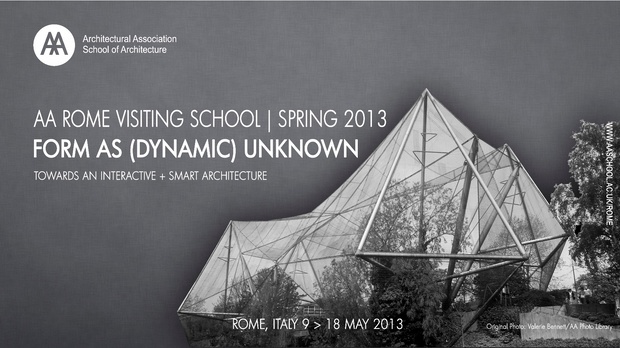 Rome
Form as (Dynamic) Unknown
Thursday 9 – Saturday 18 May 2013
Can we overcome the assumption that urban environments are static, passive systems? In questioning and rethinking our expectations, we learn that architecture can transform itself in response to the constant change of our surroundings.
The 10-day architectural workshop AA Visiting School 'Form as (Dynamic) Unknown' is an experimental laboratory in which kinetic interactive structures are researched and designed. International students develop novel solutions, building upon the experiments of great Italian innovators. Drawing on the work of Leonardo Da Vinci, participants design robotic systems inspired by nature. Projects will transform by adapting to environmental conditions and social behaviours happening at real and virtual levels. The internet, similar to the SuperSurface prophesied by SuperStudio, is considered as the virtual layer of data-exchange cutting across Rome and the rest of the world.
By the end of the workshop students will have developed their own interpretation of the future of architecture. Advancing design strategies that embrace the complex and unpredictable nature of the city will lead to forms as '(dynamic) unknown'.
Programme
The workshop is structured into three main stages with the aim of achieving innovative solutions to the many design themes proposed by the tutors. Lectures on current mainstream and academic research are integral to the whole workshop.
The first phase of the course includes a series of tutorials regarding digital parametric modelling with Grasshopper and robotics with Arduino board.
In the second phase, based on the methods acquired, the students develop in groups their projects, using analogue and digital techniques.
In the last phase they join experiments based on physical models to development of algorithmic tools and robots. Customized parts of these machines get digitally fabricated.
Eligibility
The workshop is open to architecture, engineering and design students and professionals worldwide. No previous experience in computational design, digital fabrication and robotics is needed; the workshop will offer both introductory instruction for beginners and advanced instruction for experienced users.
Teaching staff
The programme is directed by Lorenzo Vianello, architect at Foster + Partners, and Arturo Tedeschi, architect and independent researcher.
The workshop will be held by the two directors with Lawrence Friesen, tutor at the AA, and Josef Musil, architect at Foster + Partners.
Architectural Association (AA)
Unique, dynamic, independent and international, the Architectural Association School of Architecture was originally set up in 1847 as a public forum and learned society, in/famously founded by 'a pack of troublesome students'. The AA is much more than the UK's oldest school of architecture; the school is the nexus of a global conglomeration of contemporary architectural culture, as well as its pasts. The AA's incarnations include:
a professional association;
a vibrant membership organisation comprising more than 4500 members;
a registered charity;
AA Publications, publisher of books and journals;
AA Bookshop, one of London's leading architectural booksellers; and
a high-profile public events programme, including a wealth of exhibitions, lectures, symposia, seminars, conversations, research clusters and visits.
[divider_1px]
Info:
[divider_1px]
Venue
Galleria di architettura "Come Se"
via dei Bruzi 4
00185 Rome
Italy
Websites and email address
www.aaschool.ac.uk/STUDY/VISITING/rome
rome.aaschool.ac.uk
Lorenzo Vianello and Arturo Tedeschi, AA Rome Visiting School programme directors:
[email protected]