Zaha hadid Architects unveil Guangzhou Infinitus Plaza Design
Zaha hadid Architects' Guangzhou Infinitus Plaza in Baiyun New Town, Guangzhou, China, has broken ground. The groundbreaking ceremony was officiated by Mr. Lee Man Tat, Lee Kum Kee Group Chairman, Mr. Charlie Lee, Chairman of Lee Kum Kee Sauce Group, Mr. Sammy Lee, Chairman and Managing Director of LKKHPG, and Mr. Satoshi Ohashi, Director of Zaha Hadid Architects in China.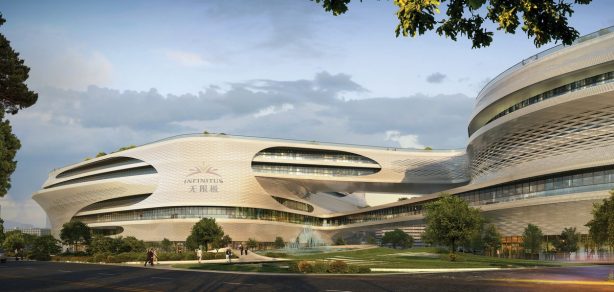 The 167,000 sq. m. Guangzhou Infinitus Plaza will be a campus of integrated buildings that combine intelligent technologies and environmental sustainability, comprising key facilities for the group including a new global center for R&D; a Chinese herbal medicine research and safety assessment center; as well as an exhibition center and gallery. It will serve as the new headquarters of Infinitus China, a member of LKKHPG. The overall investment in the project will reach RMB 4.5 billion (approx. US$659 million), and the construction is expected to be completed in the second quarter of 2020.
"24 years ago, Infinitus started its business in Baiyun District of Guangzhou. And now, Infinitus embarks on its new journey here again," said Mr. Harry Yeung, Senior Vice President of LKKHPG. "Guangzhou Infinitus Plaza reflects Infinitus' commitment to the future, as well as our spirit of inventiveness and innovation, offering our customers and employees a dynamic new environment that will also drive the economic growth of the Baiyun District and the surrounding areas."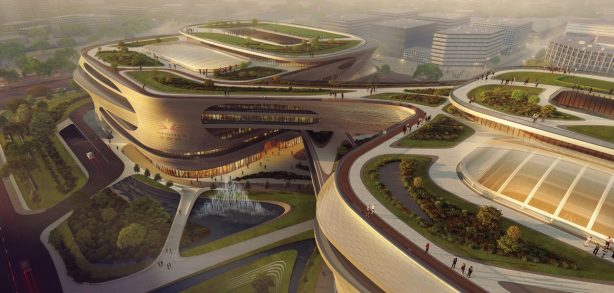 Satoshi Ohashi, Zaha Hadid Architects Director, China said: "Zaha Hadid developed the design of Guangzhou Infinitus Plaza with concepts of integration, connectivity and fluidity. This groundbreaking ceremony continues her renowned legacy. LKKHPG has a vision for nurturing better health and wellbeing through their work and important community programs. Zaha translated this vision to create a new workplace environment and corporate culture that fosters openness and communication. The design connects with the city and implements the latest technological solutions and construction methods to create a functional, adaptable and enjoyable workplace."
Guangzhou Infinitus Plaza creates a gateway to the new Baiyun Central Business District that will include six new communities planned around Guangzhou's former Baiyun Airport;  linking the city with Feixiang Gongyuan Park and the redevelopment planned to the north. Located adjacent to Feixiang Gongyuan station on Line 2 of the Guangzhou's Metro network, Guangzhou Infinitus Plaza straddles the metro line, dividing the project into two buildings that interconnect at multiple levels.
Designed over eight storeys as a series of infinite rings that enhance connectivity, the project's layout follows the arrangement of the symbol for infinity "∞". All departments within Guangzhou Infinitus Plaza are arranged around central atria and courtyards that encourage interaction between all departments. The building's unitised insulated glazing system maximizes natural light within the interior while also offering substantial reductions in energy consumption. Aluminum perforated screens provide protection from direct solar heat gain as well as enable rainwater collection. Developed with active digital intelligence, the screens' sensors monitor weather, energy-use and lighting to further reduce energy consumption.
Connecting internal and external walkways improve communication for all employees. Walking and jogging paths, as well as gardens of Chinese herbal plants, are located on the roof.
Upon completion, Guangzhou Infinitus Plaza will be an important anchor to the development of Baiyun District as a national center for China's health industry;  contributing to the city's economy and offering excellent employment opportunities for its local communities.
Guangzhou Infinitus Plaza is the first major project in mainland China in which LKKHPG solely conducted site selection, conceptual planning and construction. Its site was acquired by LKK Health Products Group (LKKHPG), a member of Lee Kum Kee Group, through its Guangdong Infinitus Property Development Company, in May 2016 for RMB 2.01 billion (approx. US$ 294 million).
LKKHPG previously acquired Infinitus Center in Zhujiang New Town, Guangzhou; Infinitus Plaza in Sheung Wan, Hong Kong; and the Shanghai Corporate Avenue 3 (soon to be renamed Infinitus Tower) in Huangpu District, Shanghai. This portfolio of Grade A properties is expected to meet the long-term development goals of LKKHPG while supporting the sustainable development of Infinitus' business.
About LKK Health Products Group (www.lkkhpg.com)
LKK Health Products Group (LKKHPG) is a member of Lee Kum Kee Group, a century-old Hong Kong enterprise. Headquartered in Hong Kong, LKKHPG is a modern and diversified business group that specializes in R&D;, production, sales and services of Chinese herbal health products; TCM plantation management; mobile internet platforms and related products and services; as well as property investment. As of 30 June 2016, LKKHPG had approximately 4,800 employees.
About Infinitus (China) Company Ltd. (www.infinitus.com.cn)
Infinitus (China) was founded in 1992, is a member of LKKHPG. It has been accredited as a National High-Tech Enterprise. Its Product Inspection Center has been certified as a National Accredited Laboratory by China National Accreditation Service for Conformity Assessment (CNAS), and passed the Proficiency Testing for Food Chemistry of the Food Analysis Performance Assessment Scheme (FAPAS) in the UK in 2012. Committed to providing high-quality Chinese herbal health products, Infinitus (China) invests more than RMB 100 million in R&D; and technology every year. As a pioneer in compound polysaccharides technology, the Company has acquired 452 patents as well as scores of core independent intellectual property rights. As of June 2016, the Company had developed 124 high-quality Chinese herbal health products in 5 series that were marketed under 6 brands. It also has set up 36 branches, 29 service centers together with over 6,400 exclusive stores in Mainland China.