CHA CHA THÉ HONORED WITH IALD AWARD OF EXCELLENCE
LIGHTING DESIGN BY THE FLAMING BEACON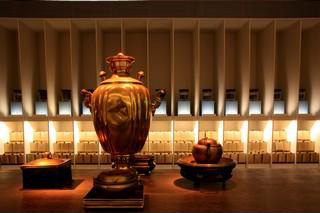 PHILADELPHIA, PA USA, 18 MAY 2011 | Seventeen award winners representing architectural lighting design projects from nine countries comprise the winners of the 28th Annual International Association of Lighting Designers (IALD) International Lighting Design Awards, recognized at a presentation held 18 May at the Crystal Tea Room in Philadelphia, PA USA.
Accepting the IALD Award of Excellence for CHA CHA THÉ were Andrew Jaques and Nathan Thompson of the Flaming Beacon.
Cha Cha Thé is a new concept tea store celebrating of the rich history of Chinese tea-drinking culture. Its flagship store, built within an existing space containing unenviable low ceilings and a predominantly white palate, challenged the lighting designers to create a visually interesting and modulated space. This was achieved through careful integration of light sources within the various joinery elements to place light only where it was needed, as any spill light became more than enough for ambient background illumination.
"The miniature, warm, pinhole lighting of Cha Cha Thé evokes antiquity, ceremony, scent and love of the finer things in life," one judge commented of the project. "The design uses the space well, with lighting appropriate to every focal point."
The lighting designers chose a range of both narrow- and wide-beam linear LEDs and medium-beam point source LEDs in warm white. The technique was adapted to suit and differentiate between the different display types, from front-lit gift sets to rear-lit contemporary ceramic tea pots.
Antique items related to the rich history of tea drinking in Chinese culture are accented by 4 and 8 degree AR111 lamps, and the tasting counter and point of sale is identified by a row of carbon filament lamps within amber glass shades to add warmth to the space. All lights are controlled by a central dimmer system with time clock and photocell for automatic preset selection throughout the day to extend lamp life and minimize power consumption.
The IALD Lighting Design Awards program, established in 1983, honors lighting projects that display high aesthetic achievement backed by technical expertise. Additionally, projects can also be submitted for consideration in the sustainable design award category, which means the project undergoes an additional round of judging keyed solely to the fulfillment of sustainable design principles. A panel of award-winning lighting designers, architects and interior designers review the projects.
The International Association of Lighting Designers (IALD), established in 1969, is an international organization supporting a network of 800 lighting design professionals who satisfy its rigorous qualification process. Its members are distinguished by a unique blend of aesthetic and technical expertise, and operate at the highest level of integrity to create a better world through leadership and excellence in lighting design; to cultivate the universal acknowledgement and appreciation of the Power of Light in human life.
28TH ANNUAL INTERNATIONAL ASSOCIATION OF LIGHTING DESIGNERS AWARDS PROJECT CREDITS:
CHA CHA
THÉTAIPEI, TAIWAN
LIGHTING DESIGN: ANDREW JAQUES, NATHAN THOMPSON, GELSIE CERQUEIRA, THE FLAMING BEACON
ADDITIONAL CREDITS
ARCHITECTS: JOHANNES HARTFUSS, MARIA GARCIA, LAYAN DESIGN GROUP
PHOTOGRAPHY: © ANDREW JAQUES