Winning Designs, 4th Earth Architecture Competition
Nka Foundation Announces the Winners of the 4th Earth Architecture Competition, Designing a School for Ghana.
The 1st prize winning design is Framed Escape by the design team of Maude Cannat and Rachel Méau in France: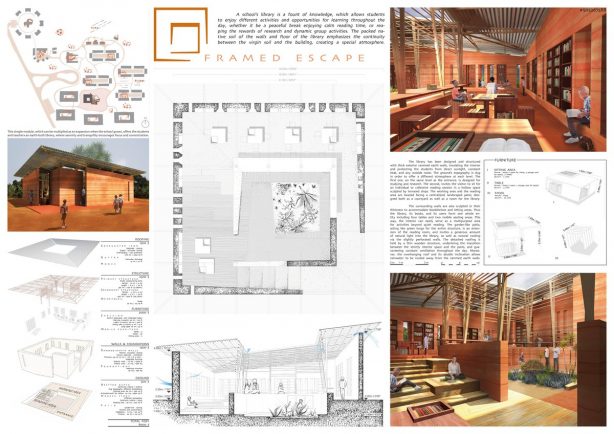 The 2nd prize winner is Inside Out by Francesca Vittorini and Andrea Tabocchini in Italy: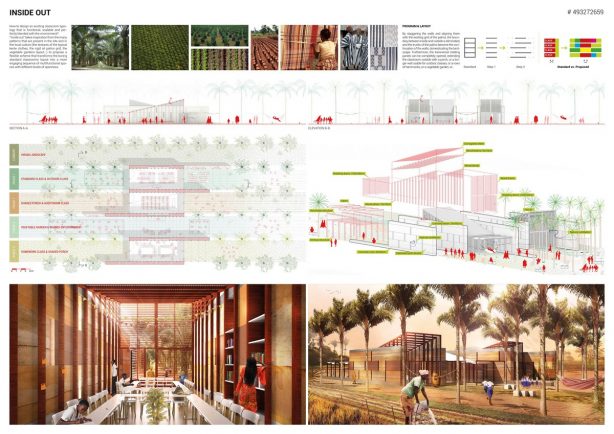 The 3rd prize is awarded to Classroom by the design team of Archisan involving Mehnaz Chowdhury and Sumaiya Mehjabeen in Bangladesh: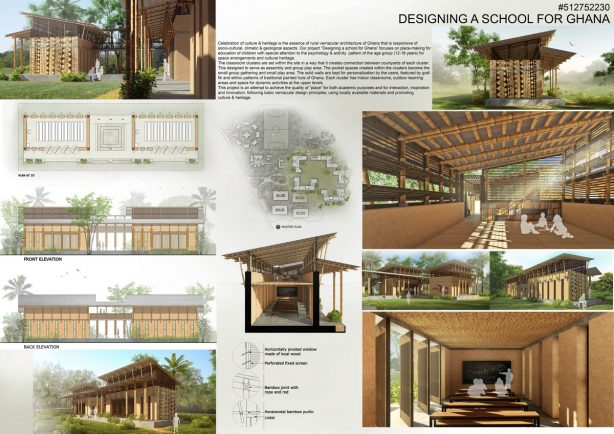 Five honorable mentions were awarded:
Abetenim Sanitary Facility by Falyou Mama Team involving Mathieu PERRIER, Arnaud JOUANCHICOT and Preetvy RAMASAMY from France and Mauritius.
Shaping the Light by Lida LIOUPI and Penny STERGIOPOULOU in Greece.
Classroom Type by Davide SCROFANI, Ferdinando MAZZA and Giuseppe FRANCONE in Italy
Infinitely Reproducible Classrooms by Luca BUONORA in Italy.
Classroom by Alberto FIGUEROA in Spain.
More Texts from Nka Foundation:
Through the 4th Earth Architecture Competition, Nka Foundation issued a challenge to recent graduates and students of architecture, design and others from around the world who think earth architecture can be beautiful.  The design entry was to emphasize sustainable architecture and cost-efficient construction by fully integrating local materials and passive solar design.  The challenge was to design an earth architecture type that will be built as a unit of a community secondary school for students of ages 12 to 18 years in the Ashanti Region of Ghana.  The challenge was to design one of the following types for the school: a classroom type,  laboratory type, office building type, dormitory type, group toilet type, cafeteria type and a dwelling type for the teachers. Contestants were to design the school type for construction by maximum use of earth and local labor.  Total costs of constructing the design entry was not to exceed $8,000 (USD) for materials.  The local community was to supply local labor for the construction and land value was also excluded from this price point.  Because the construction of best design entries is a priority, each design team gets an opportunity to build their design at Abetenim in Ghana.
The selection Jury consists of administrators of architecture institutions and architects, some of who have led building workshops at Abetenim.  The jurors are David COLE, Director of Building Trust International (UK); Ericka Alfaro CORTEZ, an architect in Nicaragua (Central America); Markus KALTENBACH, Architect and Urban planner (Germany); Jason ORBE-SMITH, Founder and Lead Designer at Orbe Design Studio (USA); Cristiane H. SIMÓ, Professor of Architecture at SENAC in Sorocaba, São Paulo (Brazil); Inna STROKOUS, Architect/Interior designer (Ukraine); LENNY SCHUTZ, Senior Creative Director at Housing.com (Czech Republic), and Angeles Hevia VARGAS, Sustainable Architect and Environmental Consultant (Chile).  The jurors used judging criteria involving functionality, aesthetics and technical matter to evaluate all design entries in the contest. Prizes for first, second and third place consist of a commemorative certificate and a choice of cash reward or construction of winning design in Ghana.
WHAT IS NEXT?
As the construction of the best design entries is our priority, from February 2017 to July 2019, we are collaborating with some of the design teams in the competition and new partners to organize construction workshops to build the design entries based on site at Abetenim in Ghana.  The building workshop to construct the 1st prize-winning entry will be held from March 1 to May 24, 2017; the workshop to build the 2nd prize-winning entry will be from June 2 to August 25, 2017; and the building workshop for the 3rd prize winning design will run from July 8 to September 30, 2017.  Whereas, workshop to realize the design entry that were awarded Honorable Mention will run as follows: Infinitely Reproducible Class from February 6 to May 6, 2017; Classroom from March 1 to May 24, 2017; Classroom Type from 8 July to 30 September, 2017; and Shaping the Light will run from July 1 -September 23, 2017.  Through an open call for participation, each workshop will bring together students and recent graduates of architecture, landscape architecture, engineering, interior design, and anyone interested in construction to join the workshop and play a part in line with their expertise.