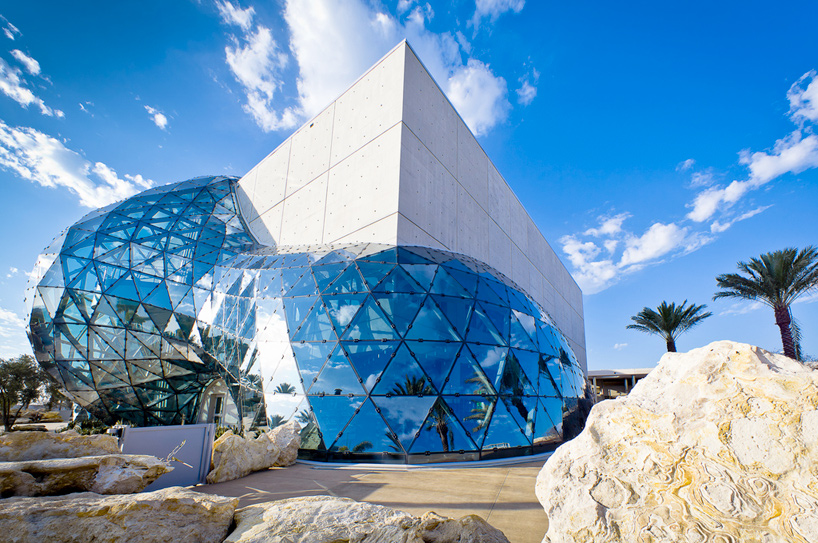 May be a conflict between the two blocs, one solid and traditional … And the second transparent, smooth and organic form reflects the freedom of expression.(Modern architecture and Organic Architecture-Blobitecture in one place !,This is probably the first impression.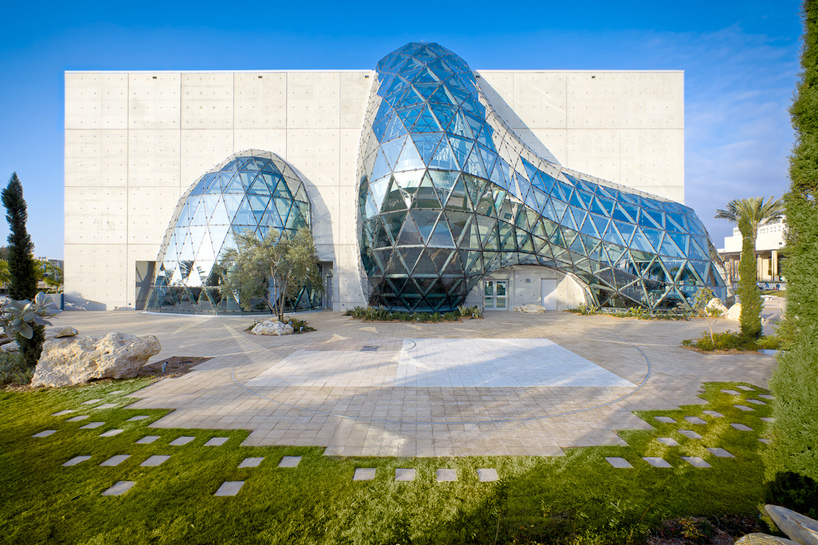 HOK: The grand opening for the new Dali Museum is on January 11, 2011, at 11:11 a.m. Located on a scenic waterfront site in downtown St. Petersburg, Fla., the 68,000-square-foot structure doubles the size of the original 1982 Dali Museum, a one-story warehouse. Exhibits include oils, watercolors, sketches, sculptures and other works from a 2,140-piece permanent collection.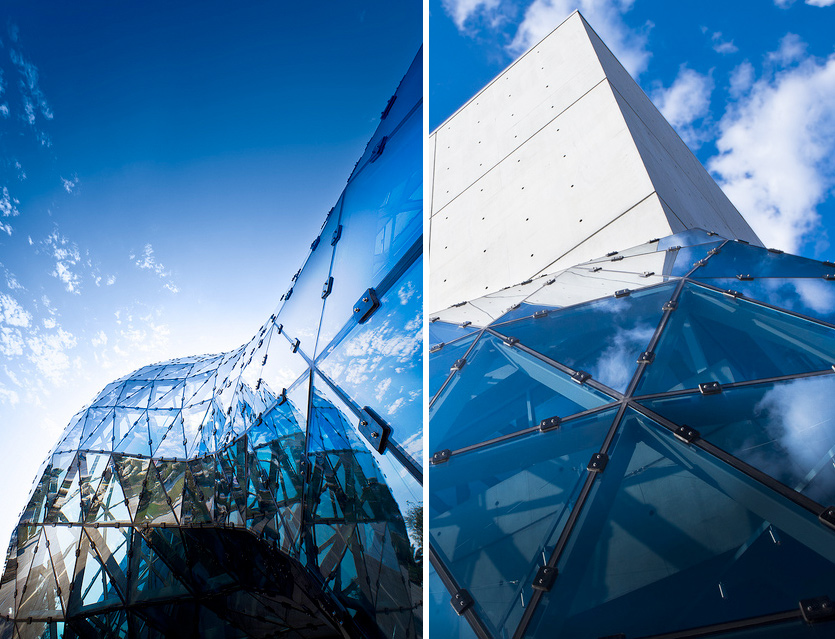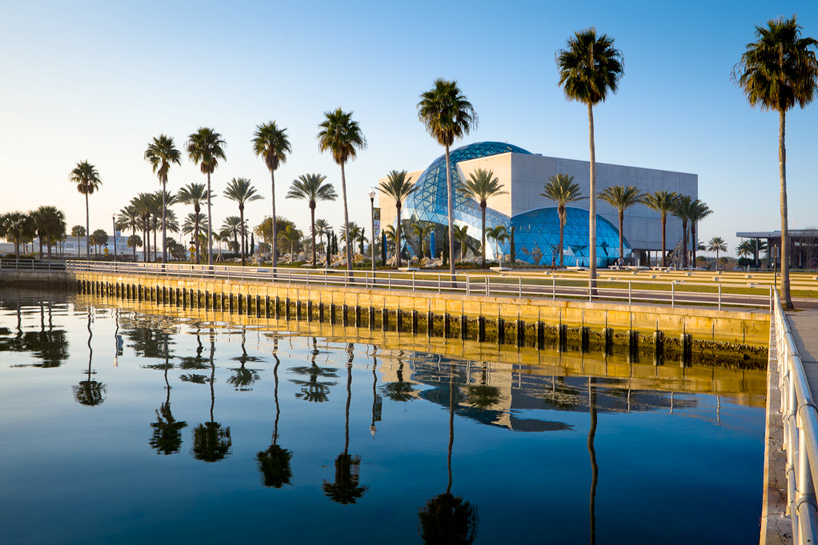 Despite the complex processes required to construct the building, which stands more than 75 feet tall and is adorned by 1,062 unique, triangular glass panels, the $29.8 million building project was completed on time and $700,000 under budget. Construction began in December 2008.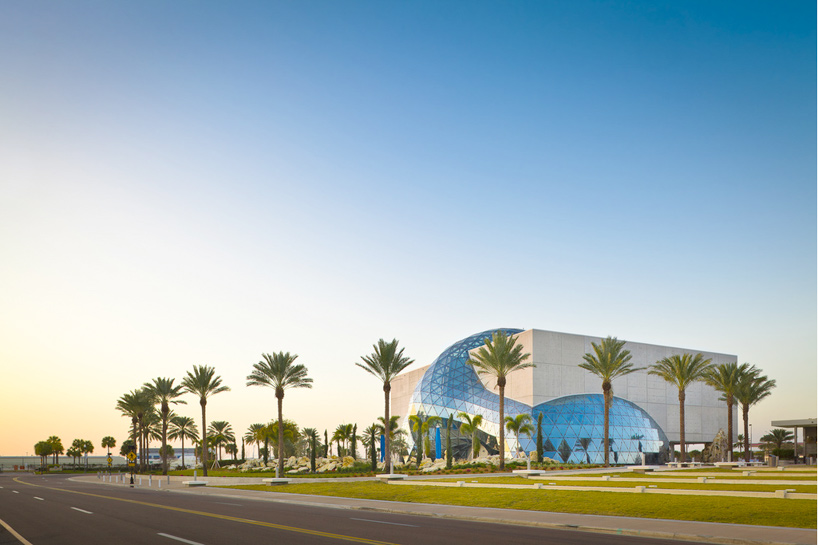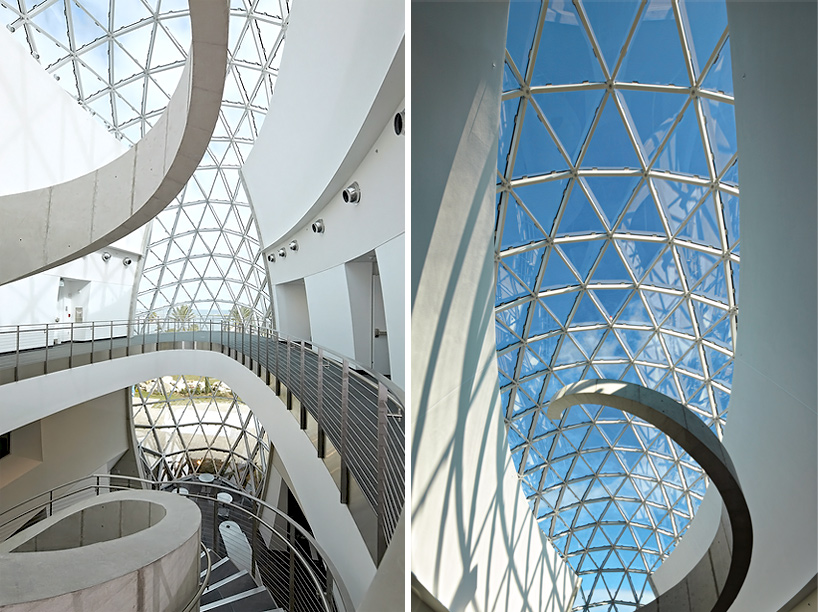 HOK's design concept is drawn directly from the building's purpose. It is inspired both by Dali's surrealist art and by the practical need to shelter the collection from the hurricanes that threaten Florida's west coast.
"Salvador Dali was a monumental pioneer of twentieth-century art and this is perhaps the best collection of his work in the world," said Weymouth. "Our challenge was to discover how to resolve the technical requirements of the museum and site in a way that expresses the dynamism of the great art movement that he led. It is important that the building speak to the surreal without being trite."
A 58-foot-high, right-angled, Euclidean "treasure box" with thick concrete walls protects the art. This unfinished concrete box is disrupted by a flowing, organic, triangulated glass "Enigma" (also the name of a 1929 Dali painting) that opens the museum to the bay and sky while forming an atrium roof that draws in natural daylight.
More Interiors Images :
"We deliberately exposed the unfinished faces of the concrete to reduce maintenance and to allow it to be a tough, natural foil to the more refined precision of the glass Enigma," said Weymouth. "This contrast between the rational world of the conscious and the more intuitive, surprising natural world is a constant theme in Dali's work."
Dali was a friend and admirer of Buckminster Fuller, who helped pioneer geodesic geometries and is a hero of Weymouth's. This is the first use of this type of free-form geodesic geometry in the United States. HOK used building information modeling (BIM) to create three-dimensional models of the glazing forms before Novum Structures imported the model into its proprietary software program and then engineered, manufactured and installed the Enigma and its glass sister, the "Igloo."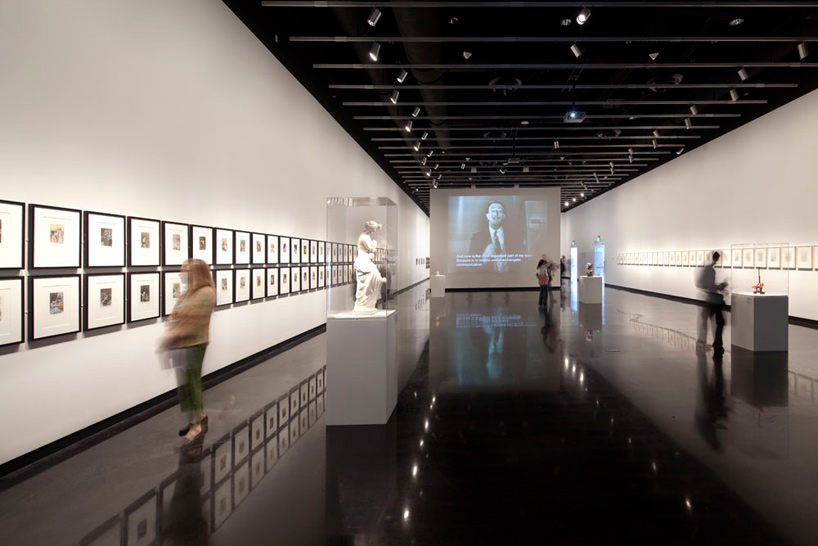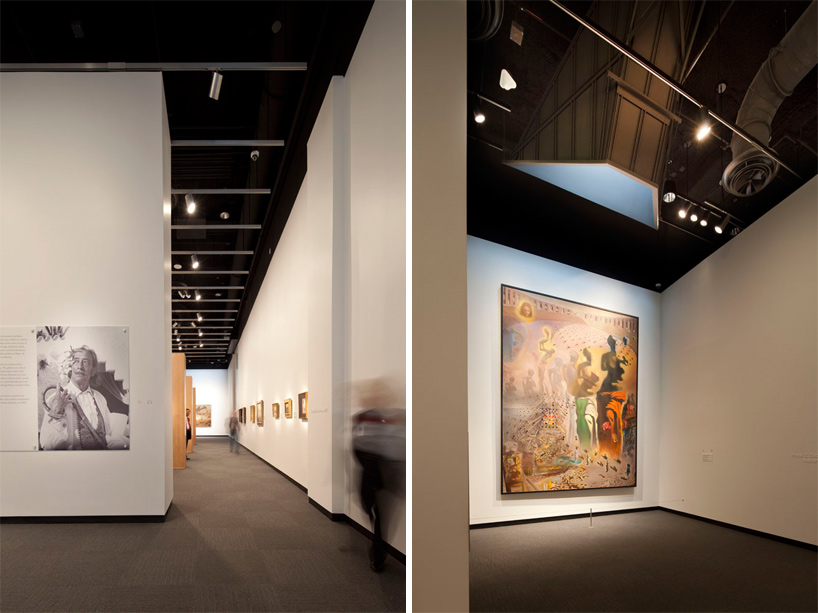 "The flowing, free-form use of geodesic triangulation is a recent innovation enabled by modern computer analysis and digitally controlled fabrication that allows each component to be unique," explained Weymouth. "No glass panel, structural node or strut is precisely the same. This permitted us to create a family of shapes that, while structurally robust, more closely resembles the flow of liquids in nature."

A soaring, poured-in-place concrete spiral staircase energizes the 75-foot-high glass atrium and invites visitors to proceed from the ground-level entrance up to the third-floor galleries. The raw concrete spiral flows at its base into the visitor reception desk, with light cable-stayed stainless steel guardrails floating in delicate juxtaposition. The helical stairway design is an allusion to Dali's fascination with spiral forms in nature and the double helix of DNA.

In the exhibition galleries on the third floor, seven unique suspended black plaster "light cannons" funnel daylight onto the largest of the Dali masterworks. The art exhibition spaces are connected by a sculptural gallery that appears to magically land in the center of the 'egg' skylight, providing ample light and sweeping vistas overlooking Tampa Bay.

The building protects this priceless art collection from hurricane-force winds and water. The fortress-like structure is designed to withstand the 165-mph wind loads of a Category 5, 200-year hurricane. The roof is 12-inch thick, solid concrete and the cast-in-place reinforced concrete walls are 18 inches thick. Located above the flood plane on the third floor, the art is protected from a 30-foot-high hurricane storm surge. Storm doors shield the vault and galleries. Specially developed for this project, the triangulated glass panels are one-and-a-half inches thick, insulated and laminated, and were tested to resist the 135 mph winds, driven rain and missile impacts of a Category 3 hurricane.

Several sustainable design strategies create energy, water and cost savings. The building is sited to reduce solar load from the low-angled western sun. Two types of solar collectors on the roof heat water for the restrooms and assist in the dehumidification cycle of the air conditioning system. Automated controls turn lights off automatically when rooms are not in use. Water is conserved with low-flow fixtures and all water condensate is recycled back into the system. The building envelope is compact, well-insulated and, with its concrete thermal mass, acts as a heat sink to reduce the temperature highs and lows of a typical day.

Summary :

Designed By Hok
Construction firm : Beck Group
St. Petersburg, Florida, USA
Floor area: 66,000 square feet
Budget: $30 million
3 floors

<!-comments-button-->